Aquariums
Water Test Kits
Phosphate Tests
Search Results in Aquariums - Water Test Kits - Phosphate Tests at All Merchants (showing 1 to 10 of 16)
Test your aquarium water for inorganic phosphate which can sometimes be responsible for algae growth. This kit measures phosphates down to 0.1 mg per L. Easy to read results. Fo...
Price: $13.67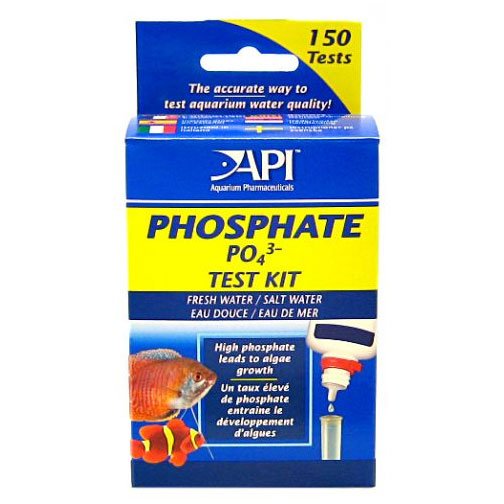 Why test your phosphate levels? Well, phosphate can enter your aquarium through tap water, fish waste and decaying organics such as uneaten food or dead algae. As phosphate increases so does your chance of having unsightly algae.
from $9.49 - Offered by 2 merchants
Professional-grade Photometer allows detection of even the minutest quantities of phosphate in your aquarium's system. Using the adaptation of ascorbic acid method, the tungsten la...
Price: $204.09
ROWAphos is the professional method of removing Phosphate and Silicate in all types of Aquariums and Ponds. It has the largest absorption ability of any phosphate product and will not leach back in to the waterROWAphos is the most effective phosphate remo
Price: $13.04
PHOSPHAT-E Aquarium Type: All Marine Fish and Reef Aquaria Classification: Solution for Eliminating Reactive Phosphate Physical State: Liquid Available Sizes: 250-ml, 500-ml, 2-L, 20-L Overview: Begins to eliminate reactive phosphate immediately upon addi
Price: $30.76
ROWAphos is the professional method of removing Phosphate and Silicate in all types of Aquariums and Ponds. It has the largest absorption ability of any phosphate product and will not leach back in to the waterROWAphos is the most effective phosphate remo
Price: $152.99
ROWAphos is the professional method of removing Phosphate and Silicate in all types of Aquariums and Ponds. It has the largest absorption ability of any phosphate product and will not leach back in to the waterROWAphos is the most effective phosphate remo
Price: $19.79
Phosphate can enter your aquarium through tap water, fish waste, and decaying organics such as uneaten food and dead algae. Excess phosphate contributes to unsightly algae blooms. This kit tests phosphate levels from 0 to 10 ppm in fresh and saltwater aqu
Price: $9.99
The Continuum advantage.PhosCorrex is a technologically advanced, premium quality, maximum strength phosphate remover that immediately and safely begins to reduce the reactive phosphate present in a saltwater aquarium. It may be used on an ongoing basis t
Price: $24.21
ROWAphos is the professional method of removing Phosphate and Silicate in all types of Aquariums and Ponds. It has the largest absorption ability of any phosphate product and will not leach back in to the waterROWAphos is the most effective phosphate remo
Price: $44.99