Search Results in Aquariums - Fish Food at All Merchants (showing 111 to 120 of 737)
Tomiyama Shrimpgobies are rare gobies from a small genus of fish. They are small and cryptically-colored with a high dorsal fin. These fish are not available often or in high qu...
Price: $24.99
Madagascar is home to several species of unique and beautiful cichlids, many of which are rare or endangered due to habitat destruction and non-native species introduction.
Price: $24.99
Sponges are simple organisms with complex identities. They are comprised of calcium carbonate or silica spicules that can vary between species or between individuals. Most sponges ...
Price: $24.99
The Albino Whiptail Catfish is an aquacultured variant with a pale peach-pink body and red eyes. Like its natural counterpart, its body is flattened with a pointed head and f...
Price: $24.99
Archer Fish are brackish water fish that inhabit coastal waters in their native range. They are silver fish with large eyes located close to the mouth, and a series of large black...
Price: $24.99
Give your dog the tastes of the holidays with these wholesome, grain-free, oven baked biscuits...
Price: $24.64
Tetra Bubbling LED Hexagon Aquarium Kit makes an attractive accent to any decor. Includes one gallon hexagon-shaped tank, clear lid with feeding hole, auto color changing three LED...
from $24.29 - Offered by 2 merchants
Pure Aquatic premium goldfish flake food is formulated to provide balanced nutrition for fancy goldfish. Quality ingredients promote vivid coloration. Large, stable flakes create l...
Price: $24.19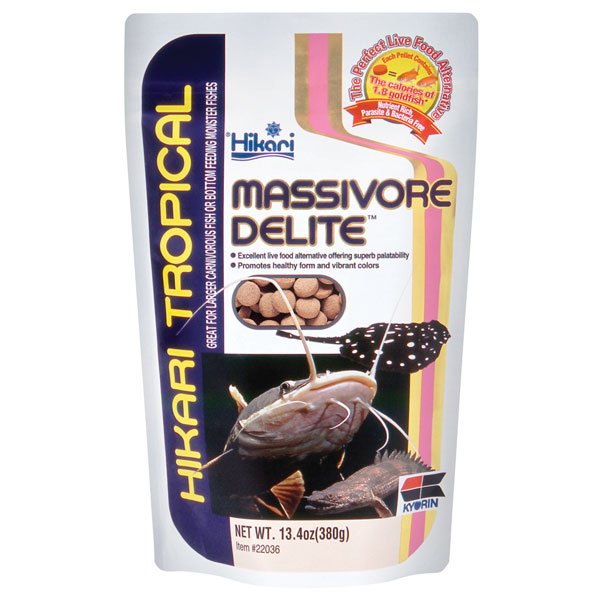 Hikari Massivore Delite is a complete, nutritionally balanced formulation, developed for BIG carnivorous fish whose main diet of live food tends to cause nutritional deficiencies. Using Massivore Delite instead of live foods reduces the chance of infectio
from $23.99 - Offered by 2 merchants
Made with free-range meat raised without hormones and antibiotics, protein-rich, low carbohydrate with added pumpkin for digestive health...
Price: $23.99