Search Results in Aquariums - Aquarium Decor at All Merchants (showing 21 to 30 of 889)
Stunning cylinder shape aquarium. Available in silver or black and designed to fit in a smaller space than the biOrb. The 9-gallon biUbe aquarium takes the best-selling features of the biOrb and puts them into an eye-catching new style and shape. The biUbe incorporates a clever and easy to change.
from $145.99 - Offered by 2 merchants
This ornament is colorful yet natural feeling. This ornament is colorful yet natural feeling and gives the look of of coral encrusted with colorful plants and shells. It's pretty and useful-it also serves as a hideaway for your fish! Specially placed holes provide a dramatic look when used with.
Price: $64.99
Penn Plax South Castle Aquarium DecorCreate an enchanted underwater world of kings and queens, wizards and witches with our Wizard's Castle. Our castles create a peaceful hideaway ...
Price: $54.99 - On Sale!
ORA Frags are propagated by Oceans; Reefs & Aquariums; the largest marine ornamental fish hatchery in the world. They continuously develop new frags and many are available in very ...
Price: $59.99
Underwater Galleries Cichlid Stones are an ideal refuge. Perfect addition to any aquarium; especially for African and South American Cichlids; which prefer to hide and breed in roc...
from $59.46 - Offered by 2 merchants
Bring the magical world of evil sorcerers; trapped princesses and heroic knights to your aquarium with Pure Aquatic's Castle of the Sorcerer. Long lasting polyresin material is sui...
Price: $42.15 - On Sale!
Colorful and brimming with realistic reef life; the Coastal Patch Reef ornament from Pure Aquatic brings a little spot of South Pacific to your aquarium. Durable resin ornament loo...
Price: $54.99
Ideal for both aquariums and terrariums this sea rock is filled with nooks, crannies, holes and caves to make your fish or reptile feel right at home. Designed for a dramatic look and as a functional space for your fish, this Craggy Sea Rock is non-toxic and safe for both fresh and saltwater.
Price: $54.99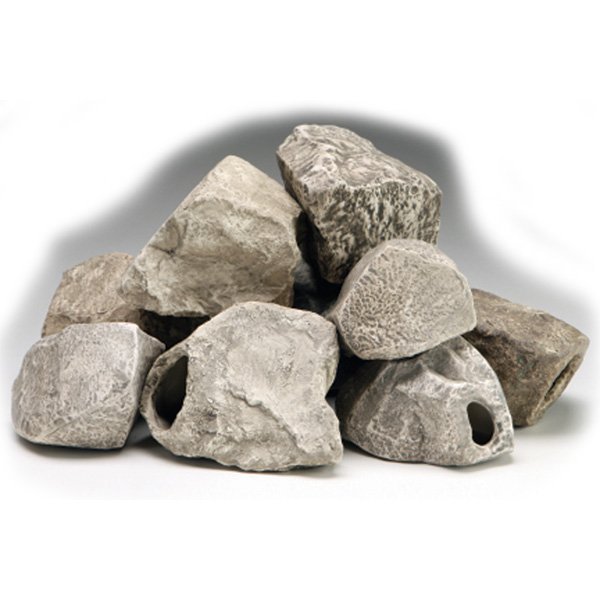 10 pack of cichlid stones for your Aquarium. Large stones are about 7.25" x 6.75" x 5.75". Highest quality on the market.
Price: $53.92
Kenya Tree Corals ( Capnella sp. ) are so named because of their very tree-like appearance. They usually have greyish ''trunks'' with brown or; less commonly; green ''leaves''. The...
Price: $52.99