Search Results in Birds at All Merchants (showing 1 to 10 of 2350)
Kaytee Ferret Home PlusFerrets just want to have fun, and our Kaytee Ferret Home Plus is the perfect place for frisky ferrets to frolic! New quality construction ensures a long lif...
from $109.12 - Offered by 4 merchants
Fruity and fun This delicious treat stick has the scrumptious tastes of honey; bananas; and all your bird's favorite seeds and grains Whether your bird deserves a reward for good...
from $1.88 - Offered by 4 merchants
Perfect natural treat to satisfy your bird. Big luscious chunks of fruit, vegetables, and nuts in an aromatic blend--the kinds of foods parrots and cockatiels naturally seek out i...
from $5.56 - Offered by 4 merchants
Kaytee Fiesta is the leading fortified; gourmet food for birds. Fiesta's unique formula provides essential nutrients in an exciting mixture of high quality fruits; nuts; vegetable...
from $14.92 - Offered by 4 merchants
Our Kaytee(R) Fiesta(R) nutritionally fortified gourmet conure food is packed with a mix of fruits, nuts, vegetables, seeds, and healthful whole grains. Balanced Omega-3 and Omega-...
from $14.75 - Offered by 4 merchants
Kaytee Avian experts have spent years formulating the perfect foods for a variety of bird species. Every single line of food that Kaytee offers is scientifically designed with all...
from $12.93 - Offered by 4 merchants
Try a deliciously fruity blend of tastes that your parrot will simply adore. Kaytee Exact Rainbow is a nutritious bird food developed by the nutritional experts at the Kaytee Avia...
from $13.92 - Offered by 4 merchants
Pamper your furry little friend with these delicious treats. Crunchy nuggets coated in a smooth, delicious yogurt offer a taste your pet won't be able to resist. Reward your pet with Kaytee Fiesta Yogurt-Dipped Treats. Ideal for hamsters, gerbils, rats and mice, these delicious treats will have...
from $4.97 - Offered by 4 merchants
Forti-diet ProHealth Moulting and Conditioning formula jar; is nutritionally formulated to give birds the nutrients they need through stressful periods of moulting. This formula en...
from $2.98 - Offered by 4 merchants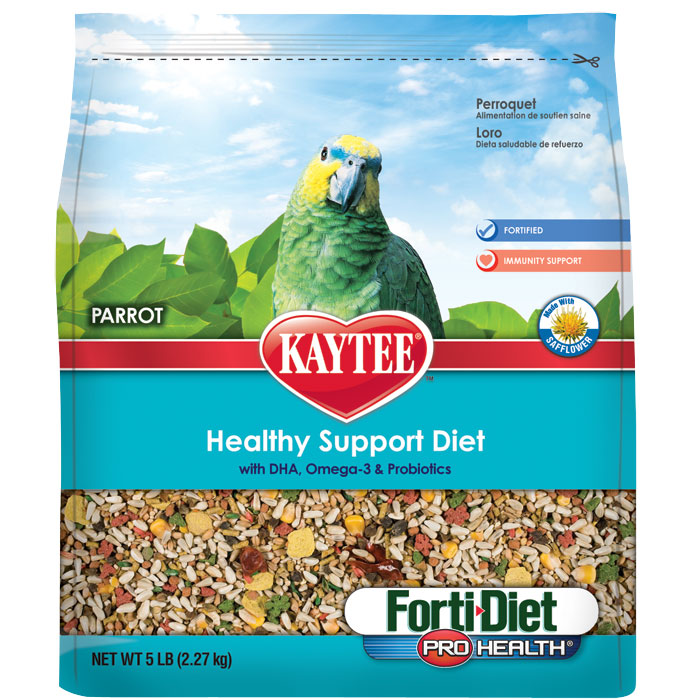 Kaytee Forti-Diet Pro Health is a seed-based blend of fresh; palatable Seeds; grains and fortified supplements that provides the essential nutrients your bird needs for a long; hea...
from $8.75 - Offered by 4 merchants