Search Results (showing 1 to 10 of 144)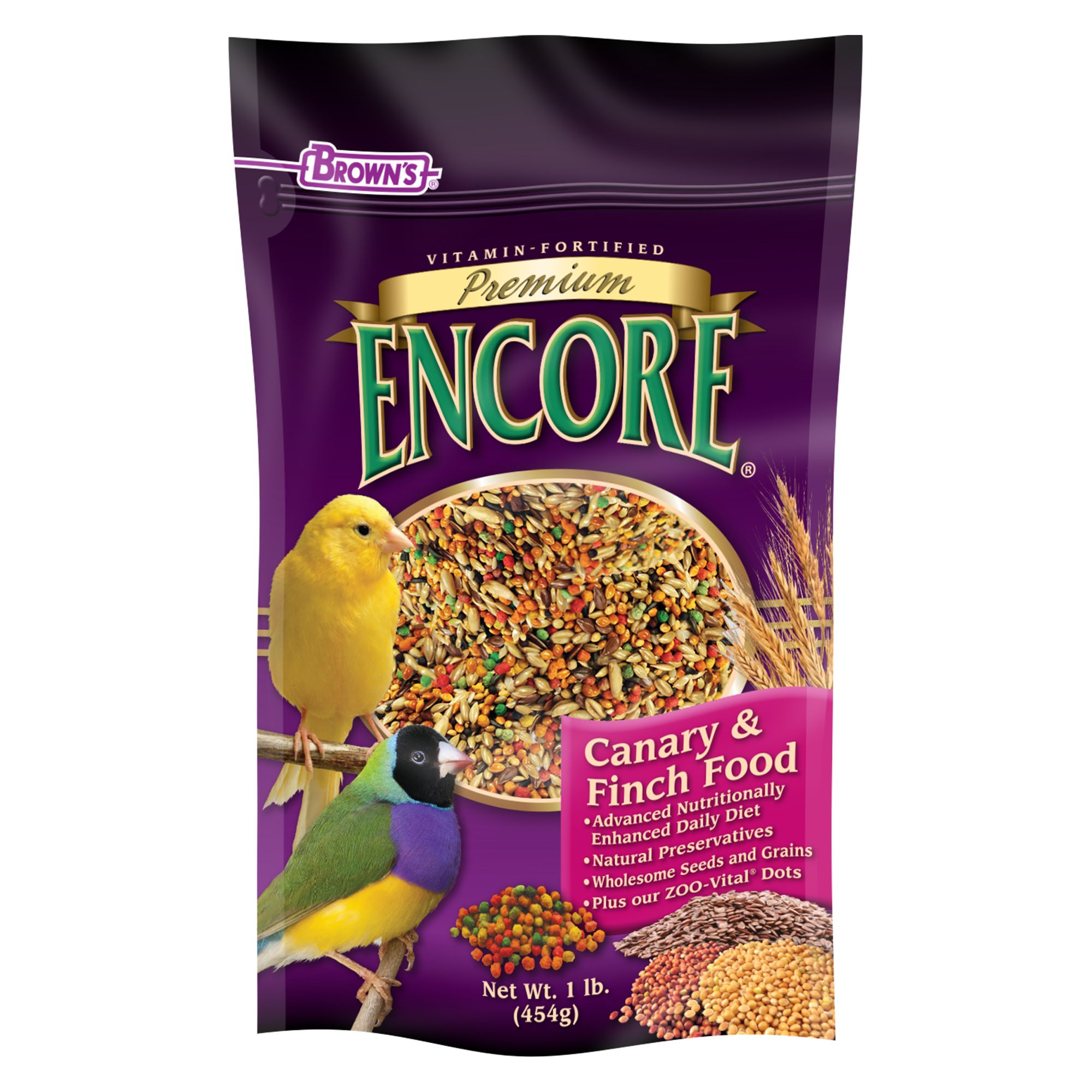 Brown's Encore Premium Canary/Finch Food is made with the understanding that your pet is more than just a hobby, it's a member of the family. This unique, vitamin-fortified premium food is certain to satisfy the cravings of your pet. Features: Vitamin fortified Food Type: Dry Food Consistency: Seeds Life Stage: All Primary Ingredient: Canary Seed Package Weight: 1 lb Ingredients: Canary Seed, Red Millet, Rapeseed, Oat Groats, Flaxseed, Yellow Millet, Nyjer® (Thistle) Seed (Bot. Guizotia
Price: $5.99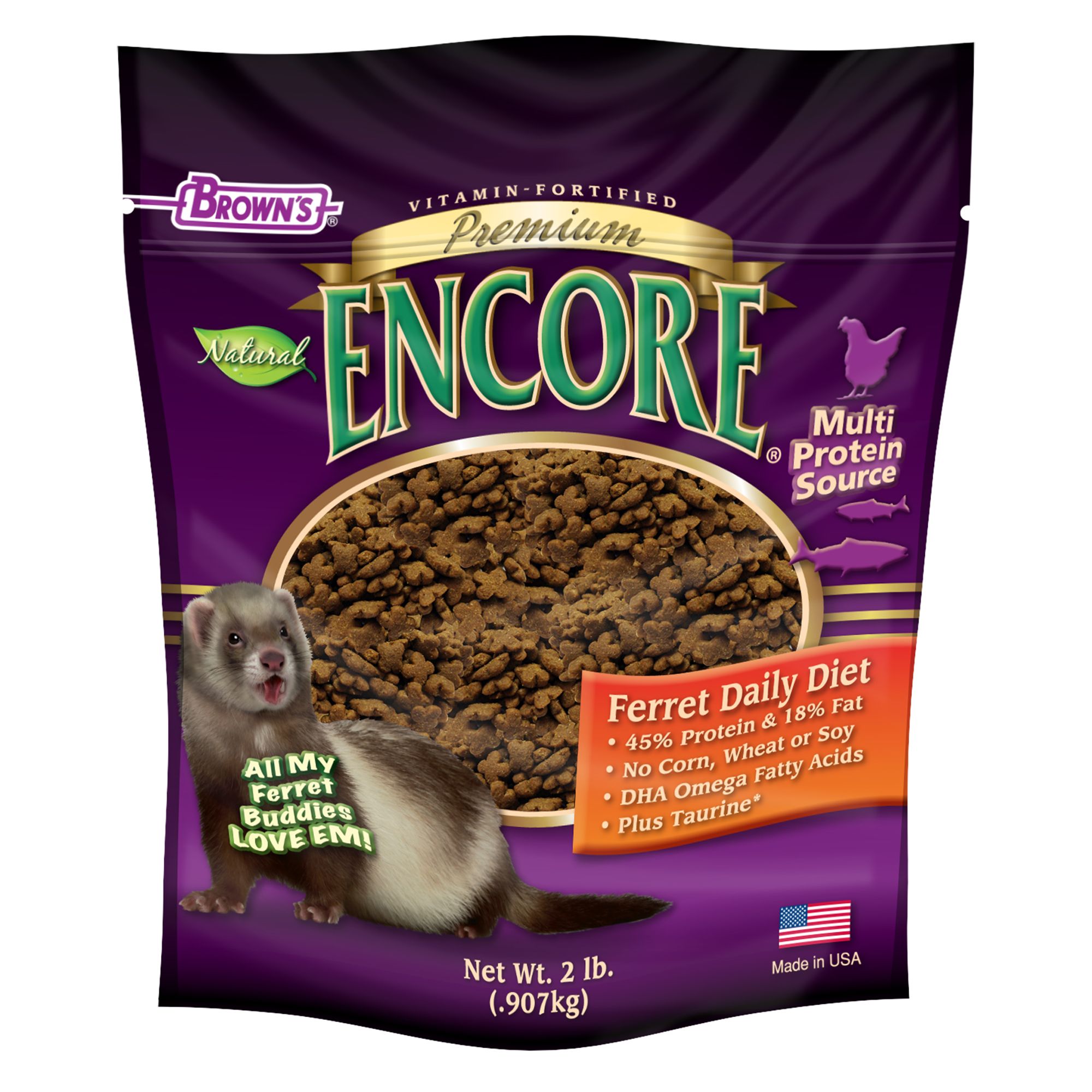 Brown's Encore Premium Ferret Food was created with the understanding that your pet is more than just a hobby. It is a member of your family, and this unique, vitamin-nutrient-fortified, premium high-energy diet is ideal for active lifestyles. The Life Stage diet (6 weeks through adult) is made from multiple highly digestible protein and fat sources from chicken and fish and is exceptionally tasty! In addition, it is free of corn, wheat, soy and artificial colors. You'll see your pet's good
Price: $15.79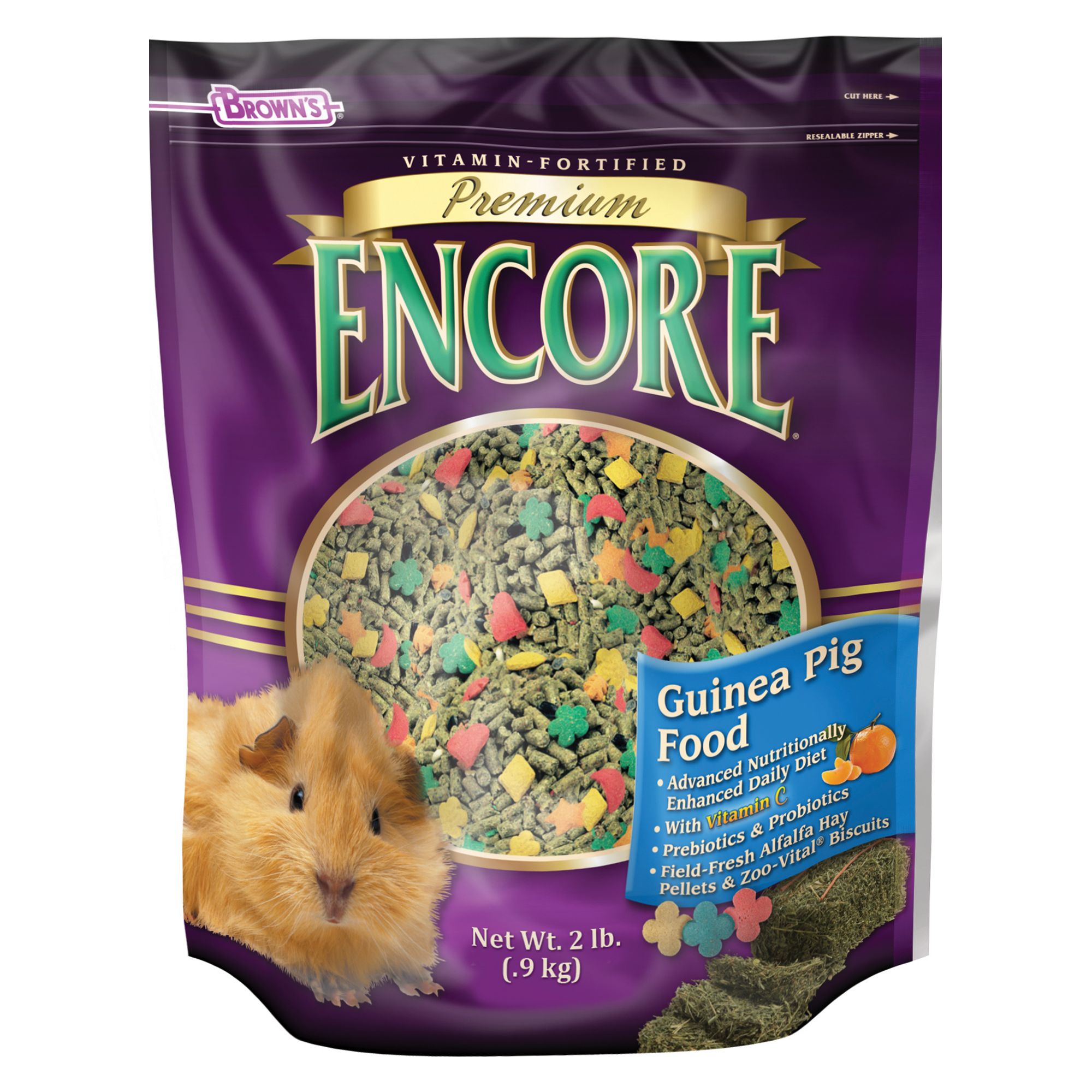 Brown's Encore Premium Guinea Pig Food was created with the understanding that your pet is more than just a hobby. It is a member of your family, and this unique, vitamin-filled premium food will more than satisfy the cravings of your guinea pig. Features: Vitamin fortified Food Type: Small animal food Food Consistency: Extruded Life Stage: All Primary Ingredient: Alfalfa Meal Package Weight: Available in 2 lb, 5 lb and 8 lb sizes Ingredients: Dehydrated Alfalfa Meal, Wheat, Wheat Middlings
Price: $5.99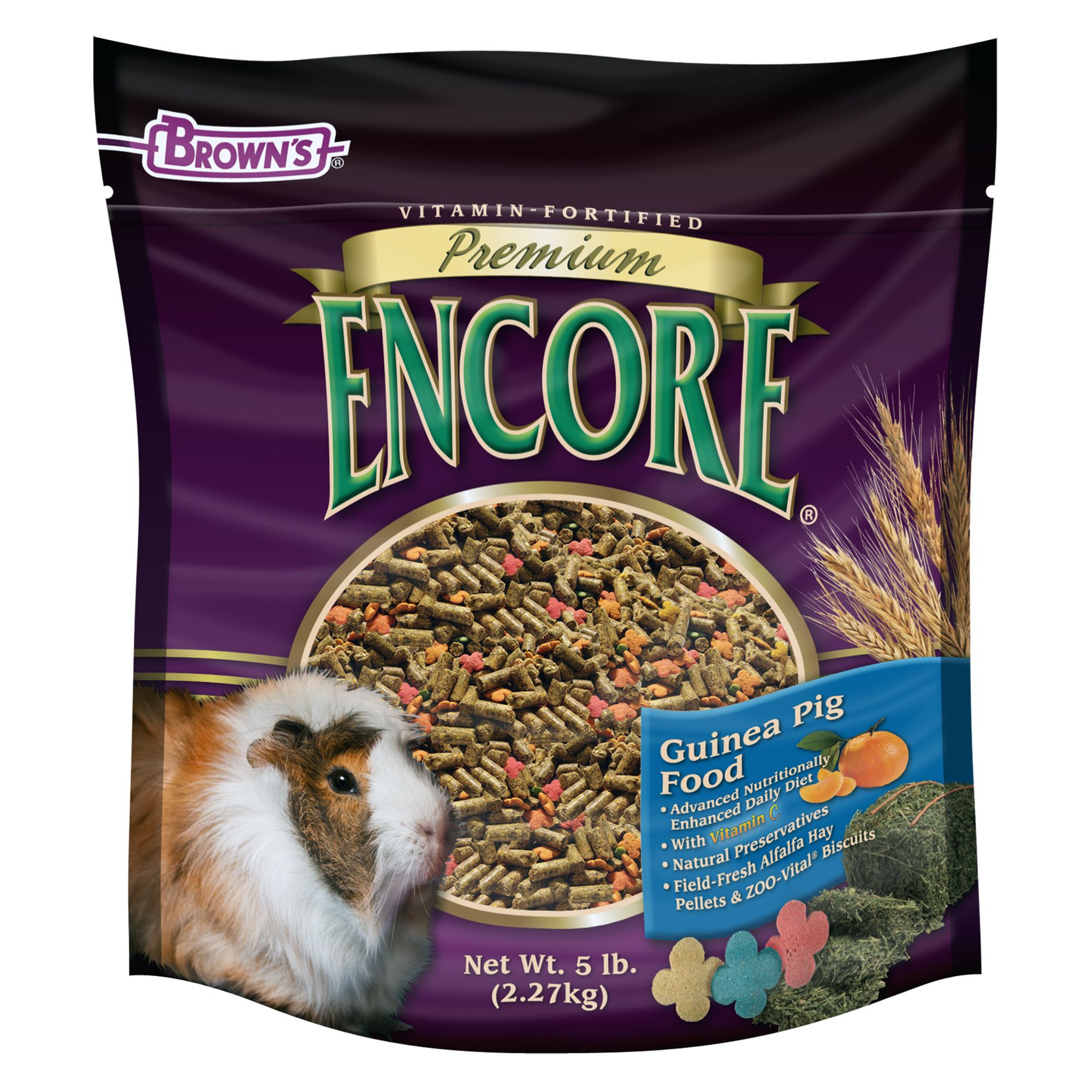 Brown's Encore Premium Guinea Pig Food was created with the understanding that your pet is more than just a hobby. It is a member of your family, and this unique, vitamin-filled premium food will more than satisfy the cravings of your guinea pig. Features: Vitamin fortified Food Type: Small animal food Food Consistency: Extruded Life Stage: All Primary Ingredient: Alfalfa Meal Package Weight: Available in 2 lb, 5 lb and 8 lb sizes Ingredients: Dehydrated Alfalfa Meal, Wheat, Wheat Middlings
Price: $13.87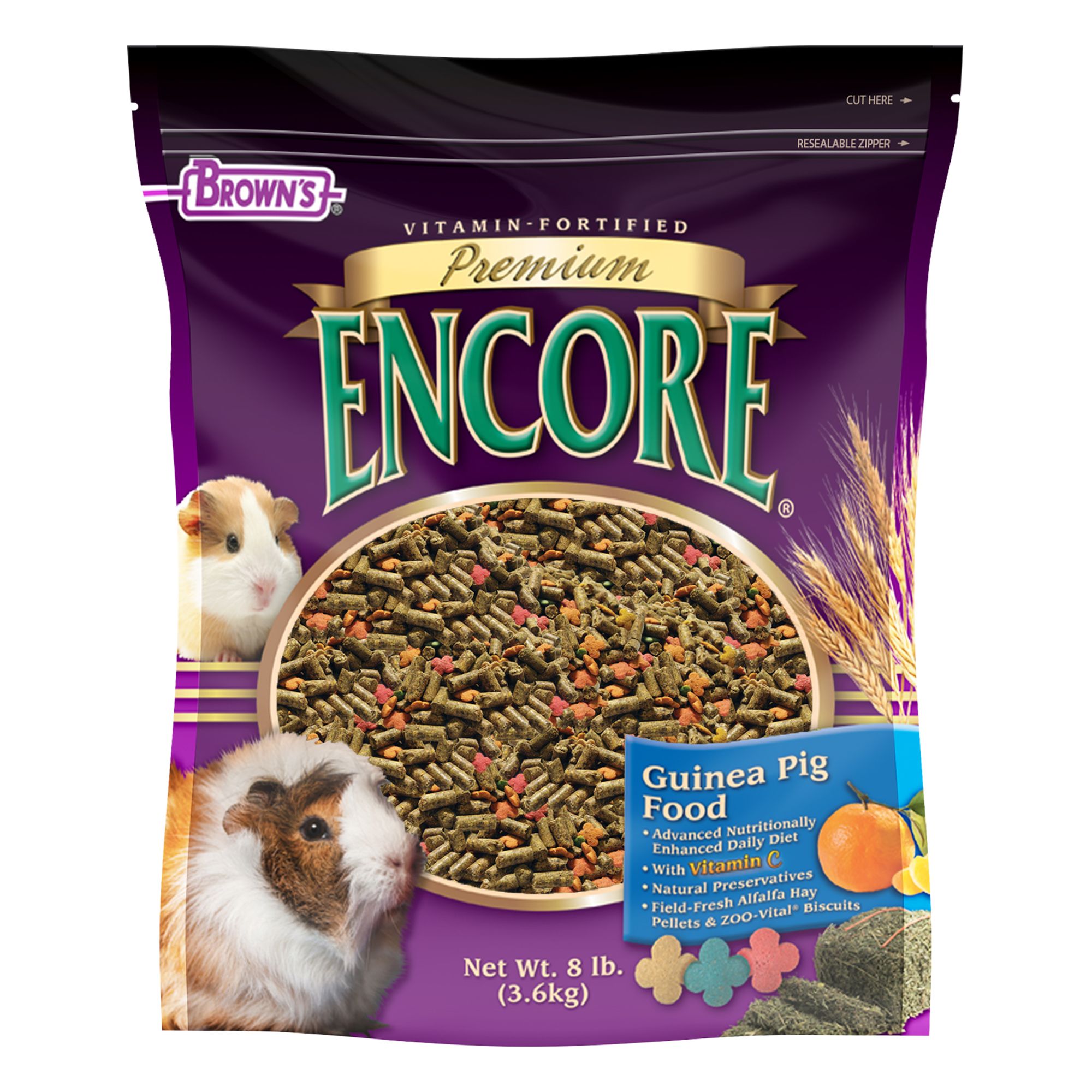 Brown's Encore Premium Guinea Pig Food was created with the understanding that your pet is more than just a hobby. It is a member of your family, and this unique, vitamin-filled premium food will more than satisfy the cravings of your guinea pig. Features: Vitamin fortified Food Type: Small animal food Food Consistency: Extruded Life Stage: All Primary Ingredient: Alfalfa Meal Package Weight: Available in 2 lb, 5 lb and 8 lb sizes Ingredients: Dehydrated Alfalfa Meal, Wheat, Wheat Middlings
Price: $16.99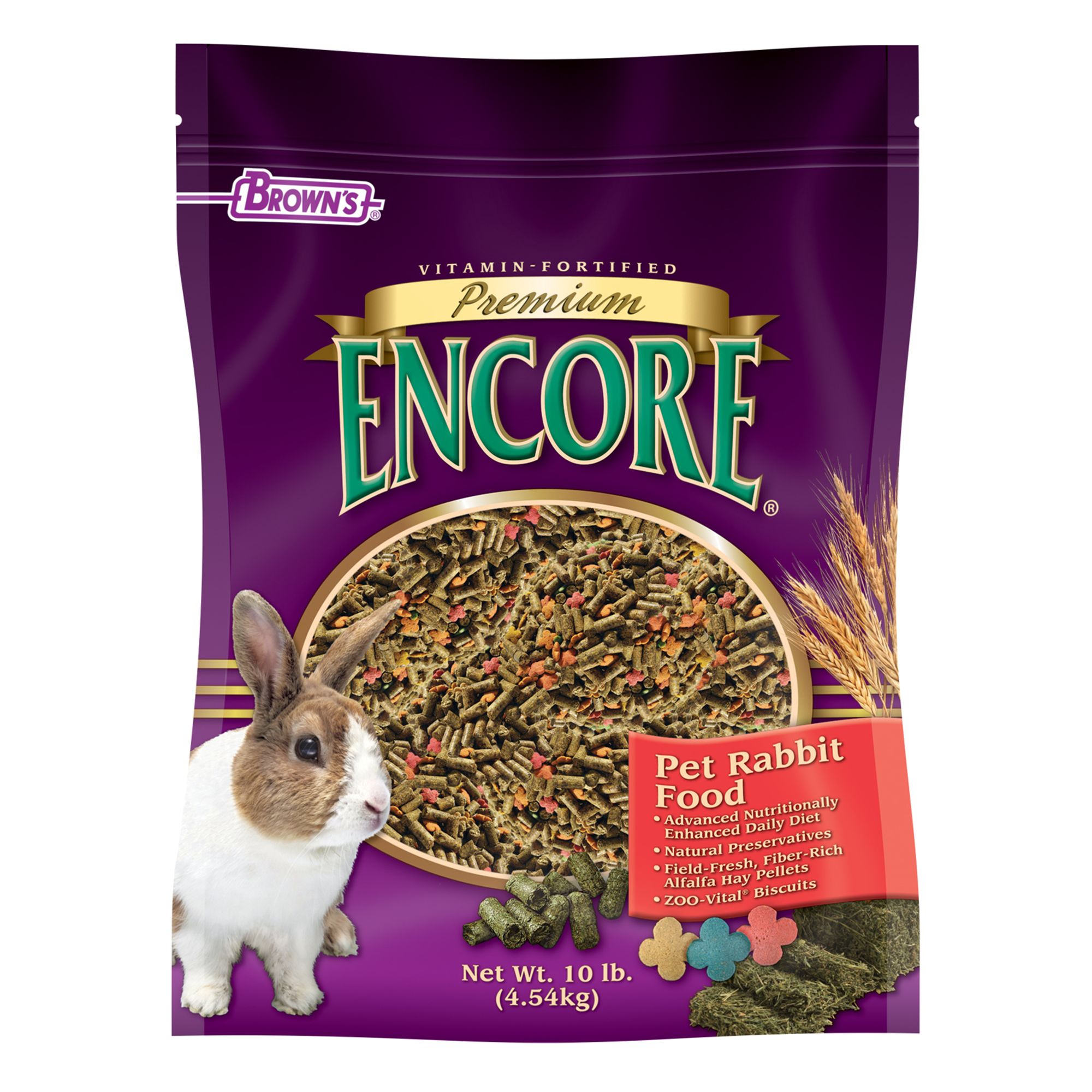 Brown's Encore Premium Rabbit Food was created with the understanding that your pet is more than just a hobby. It is a member of your family, and this unique, vitamin-filled premium food will more than satisfy the cravings of your rabbit. Features: Vitamin fortified Food Type: Small animal food Food Consistency: Extruded Life Stage: All Primary Ingredient: Alfalfa Meal Package Weight: Available in 2 lb, 5 lb and 10 lb sizes Ingredients: Dehydrated Alfalfa Meal, Wheat Middlings, Wheat Flour
Price: $18.97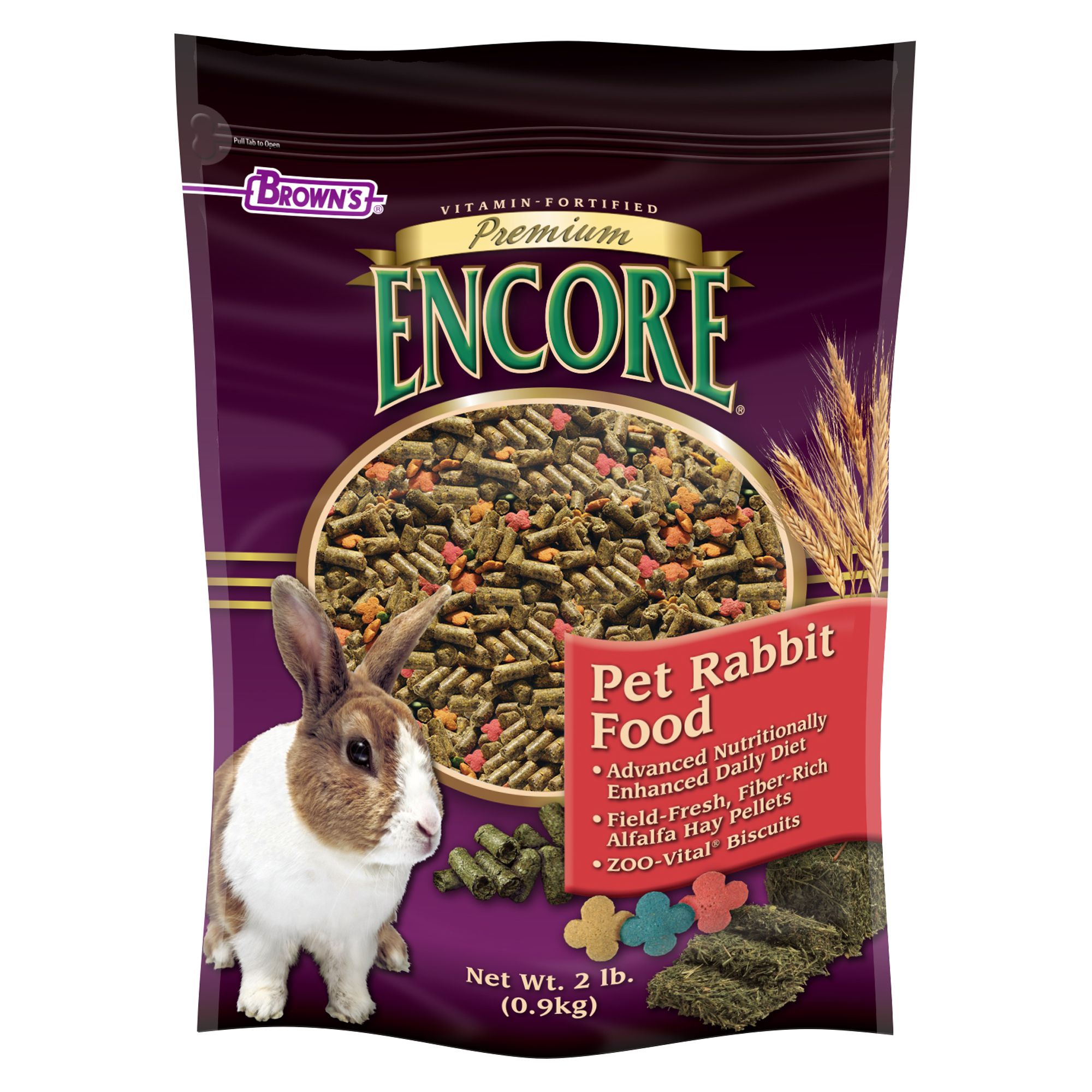 Brown's Encore Premium Rabbit Food was created with the understanding that your pet is more than just a hobby. It is a member of your family, and this unique, vitamin-filled premium food will more than satisfy the cravings of your rabbit. Features: Vitamin fortified Food Type: Small animal food Food Consistency: Extruded Life Stage: All Primary Ingredient: Alfalfa Meal Package Weight: Available in 2 lb, 5 lb and 10 lb sizes Ingredients: Dehydrated Alfalfa Meal, Wheat Middlings, Wheat Flour
Price: $5.99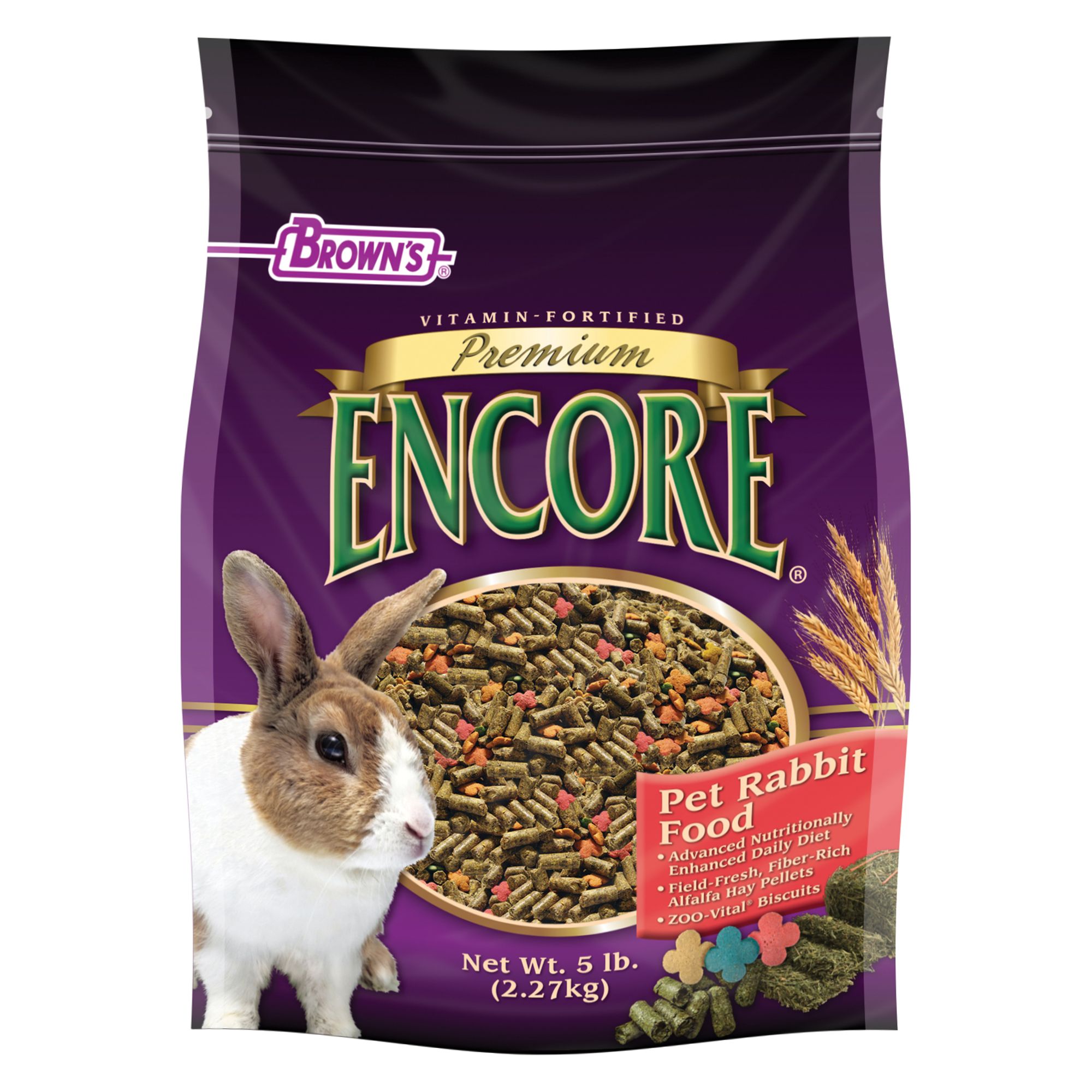 Brown's Encore Premium Rabbit Food was created with the understanding that your pet is more than just a hobby. It is a member of your family, and this unique, vitamin-filled premium food will more than satisfy the cravings of your rabbit. Features: Vitamin fortified Food Type: Small animal food Food Consistency: Extruded Life Stage: All Primary Ingredient: Alfalfa Meal Package Weight: Available in 2 lb, 5 lb and 10 lb sizes Ingredients: Dehydrated Alfalfa Meal, Wheat Middlings, Wheat Flour
Price: $13.68 - On Sale!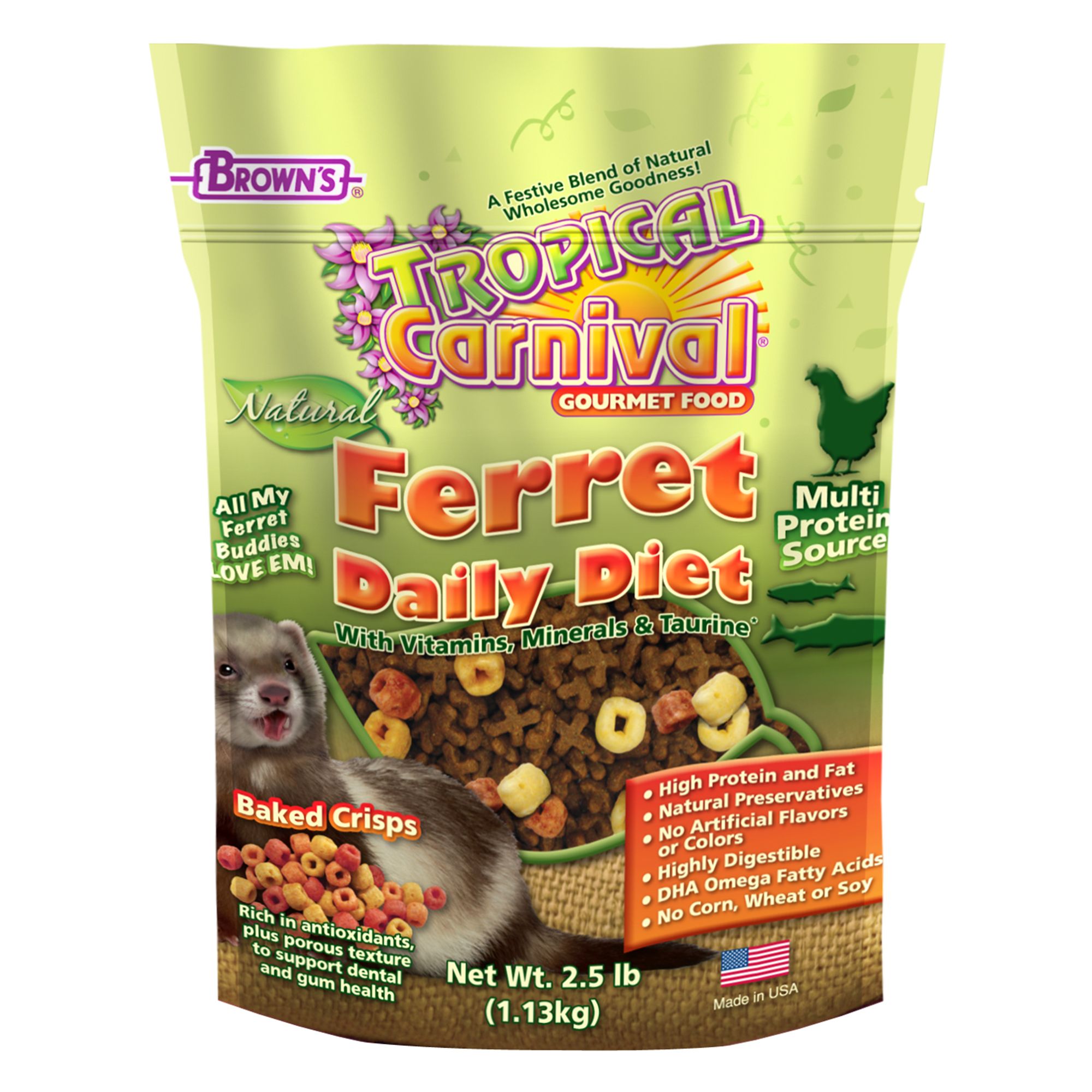 If ferrets could talk, they'd ask for Tropical Carnival Natural Ferret Food. This food is the most nutritious food available, and one you can feel great about serving to your pet ferret. Features: Daily nutrition for ferrets Food Type: Ferret Food Food Consistency: Extruded Pellets Life Stage: All Primary Ingredient: Poultry Meal Package Weight: 2.5 lb Ingredients: Poultry Meal, Fish Meal (source of Omega 3 Fatty Acids), Chicken Fat (preserved with mixed tocopherols), Potato Starch, Flax Seed
Price: $25.99
ZuPreem FruitBlend Premium Bird Food is formulated for various species of captive birds. They're nutritionally balanced with 21 vitamins and minerals in every bite, and they contai...
from $8.99 - Offered by 2 merchants