Search Results (showing 1 to 5 of 5)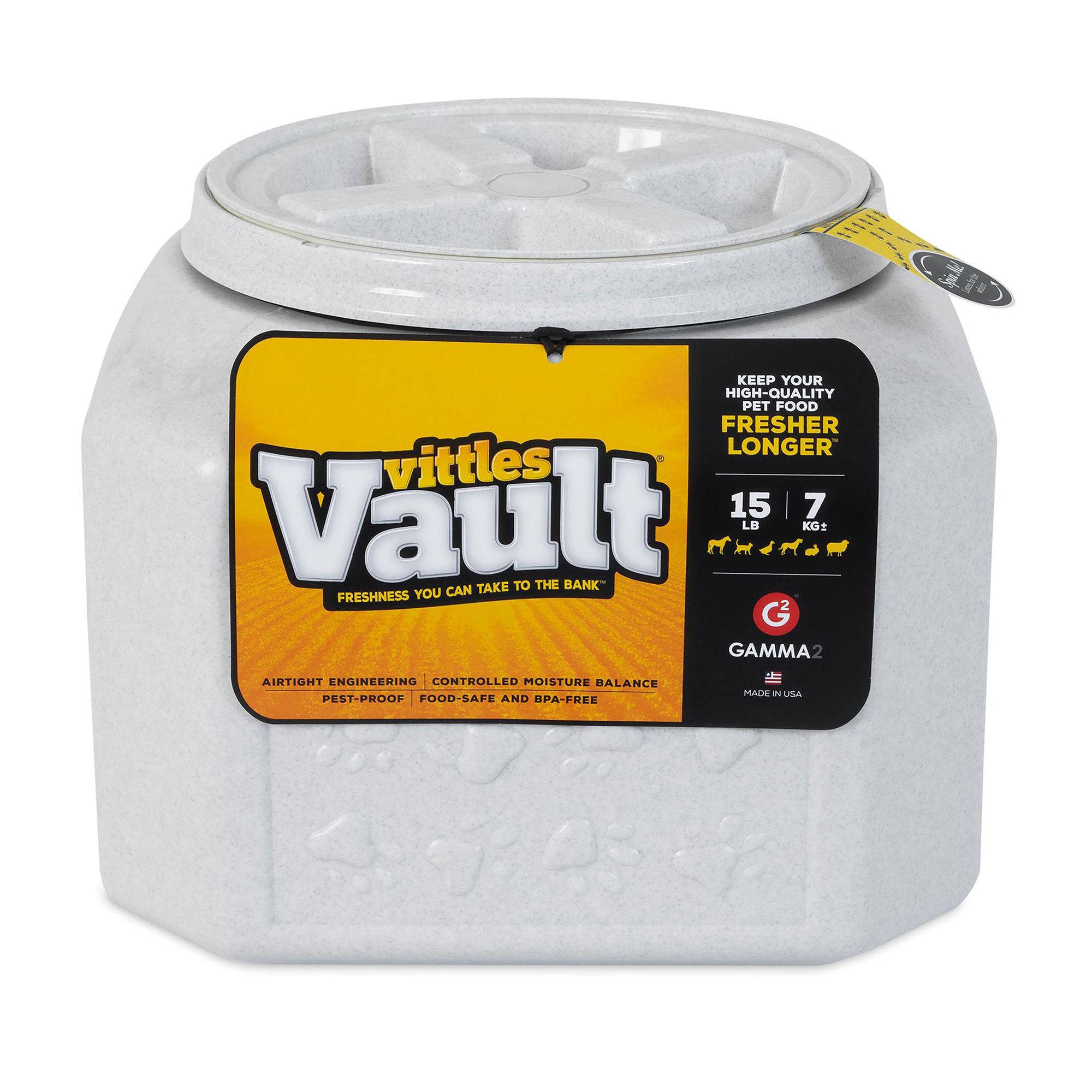 The Vittle Vault Pet Food Container keeps dry pet foods fresh and sanitary and locks in flavor. The first absolutely airtight storage container for dry pet foods, it eliminates the need for awkward bags that expose food to air, excessive moisture and unwanted pests. Great for natural foods that are nutrient-rich and preservative-free. Features: Manufactured from FDA approved high-density polyethylene (HDPE), Airtight to ensure freshness, Stackable to save space Includes: Container and measuring
from $15.27 - Offered by 4 merchants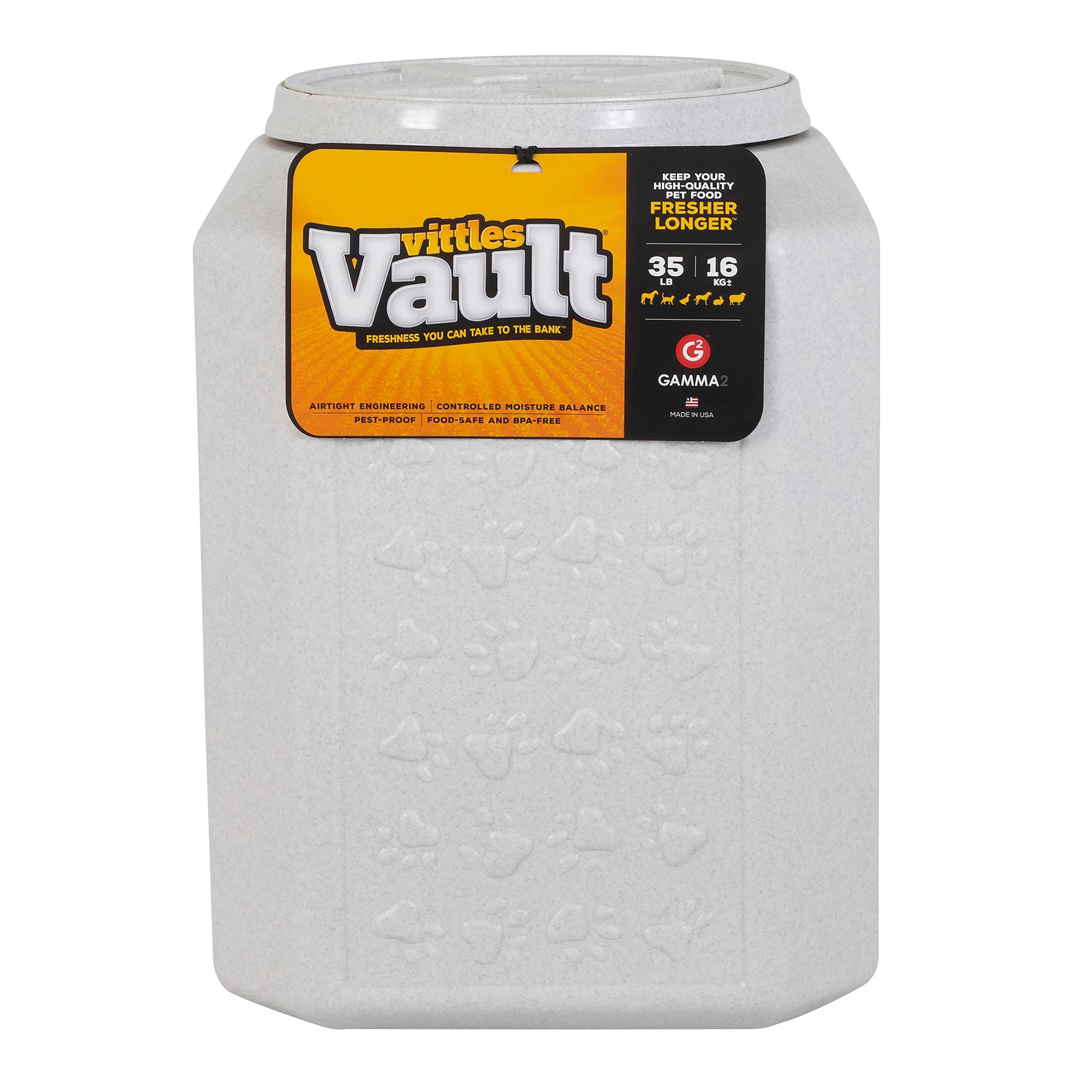 The Vittle Vault Pet Food Container keeps dry pet foods fresh and sanitary and locks in flavor. The first absolutely airtight storage container for dry pet foods, it eliminates the need for awkward bags that expose food to air, excessive moisture and unwanted pests. Great for natural foods that are nutrient-rich and preservative-free. Features: Manufactured from FDA approved high-density polyethylene (HDPE), Airtight to ensure freshness, Stackable to save space Includes: Container and measuring
Price: $25.89 - On Sale!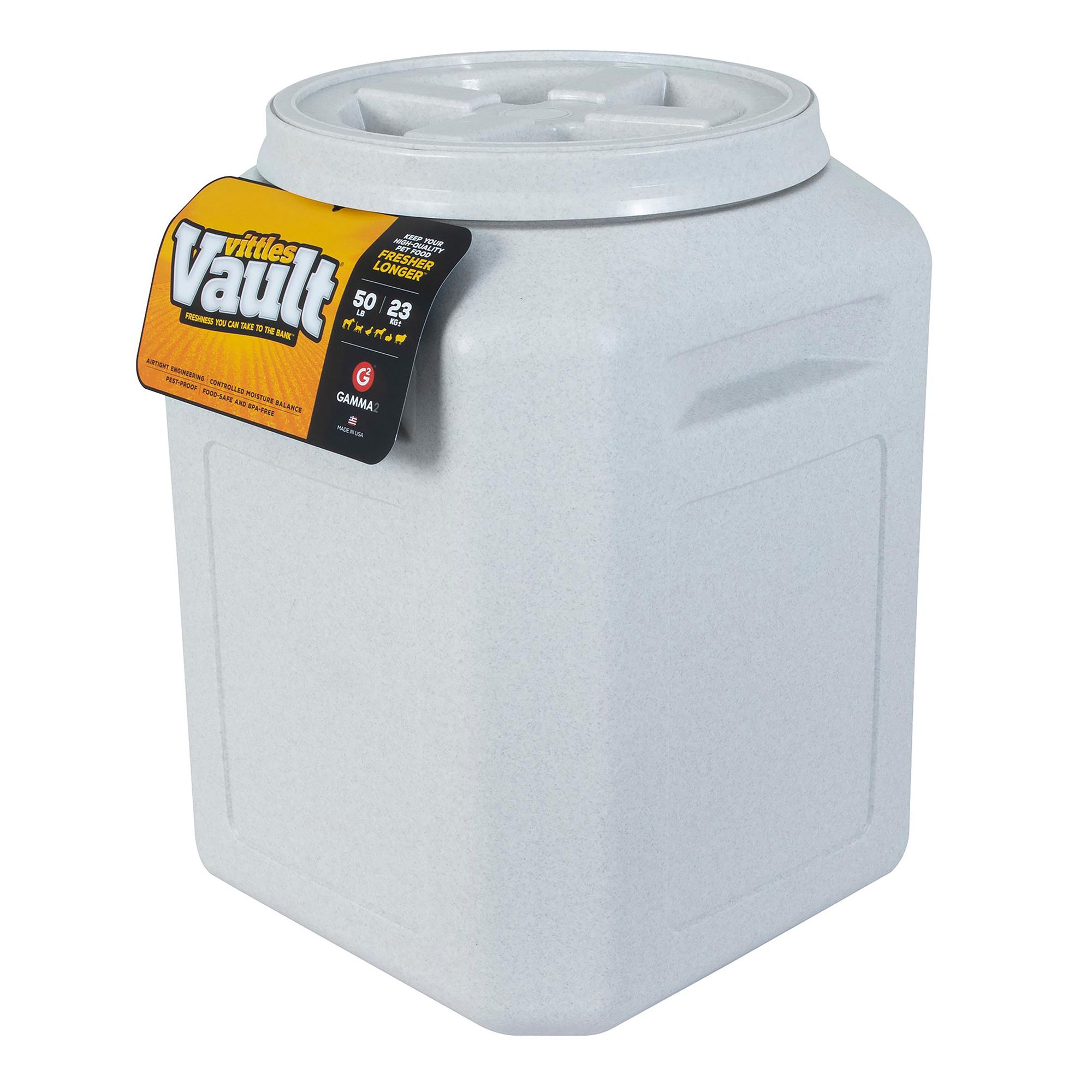 The Vittle Vault Pet Food Container keeps dry pet foods fresh and sanitary and locks in flavor. The first absolutely airtight storage container for dry pet foods, it eliminates the need for awkward bags that expose food to air, excessive moisture and unwanted pests. Great for natural foods that are nutrient-rich and preservative-free. Features: Manufactured from FDA approved high-density polyethylene (HDPE), Airtight to ensure freshness, Stackable to save space Includes: Container and measuring
from $27.62 - Offered by 4 merchants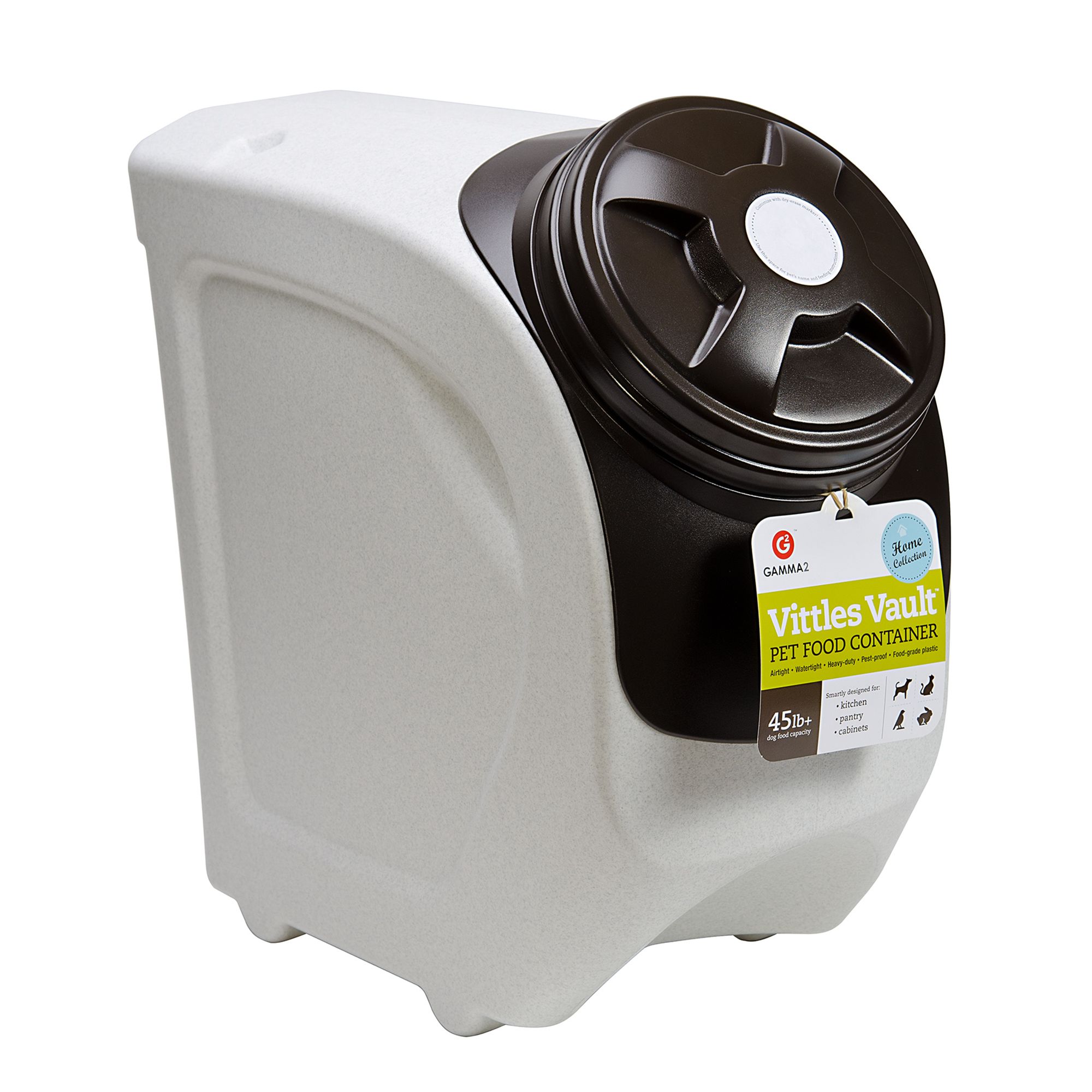 Keep pet food of all kinds fresher for longer with the Vittles Vault Stackable Pet Food Container. Constructed from heavy duty, food-grade plastic, this container is smartly designed for kitchens, pantries, and cabinets, features an airtight gasket seal, and is accessible even when it is stacked. Features: Airtight Watertight Heavy Duty Pest-Proof Food-Grade Plastic Includes: 1 Container Intended Pet(s): Dogs, Cats, Birds, Horses and more Material(s): Plastic Color: White, Brown Capacity: Dog
from $31.19 - Offered by 2 merchants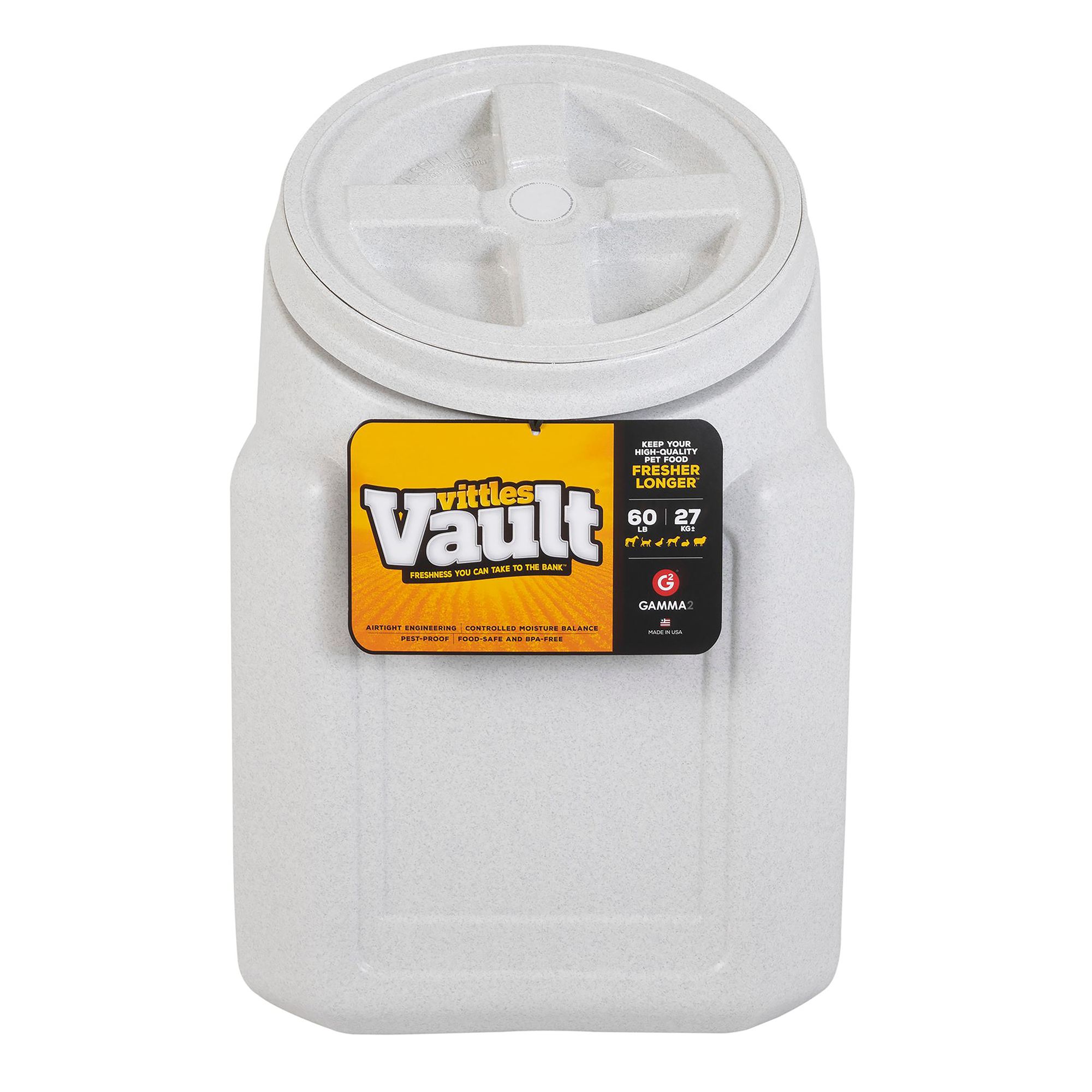 Keep your pet food fresh and flavorful by storing it in the Gamma 2 Vittles Vault Outback Stable Pet Food Container. This 60 lb container is airtight, weatherproof and durable, allowing you to lock in freshness. This item is also stackable, allowing you to conserve space if need be. Features: Airtight, Weatherproof, Heavy-Duty, Pest proof, Food Grade Plastic Includes: Free Scoop Intended For: Dog Dimensions: 14.5 in x 22 in x 19 in Total Weight: 7.6 lbs Color: Gray.
from $32.49 - Offered by 2 merchants