Search Results (showing 1 to 10 of 17)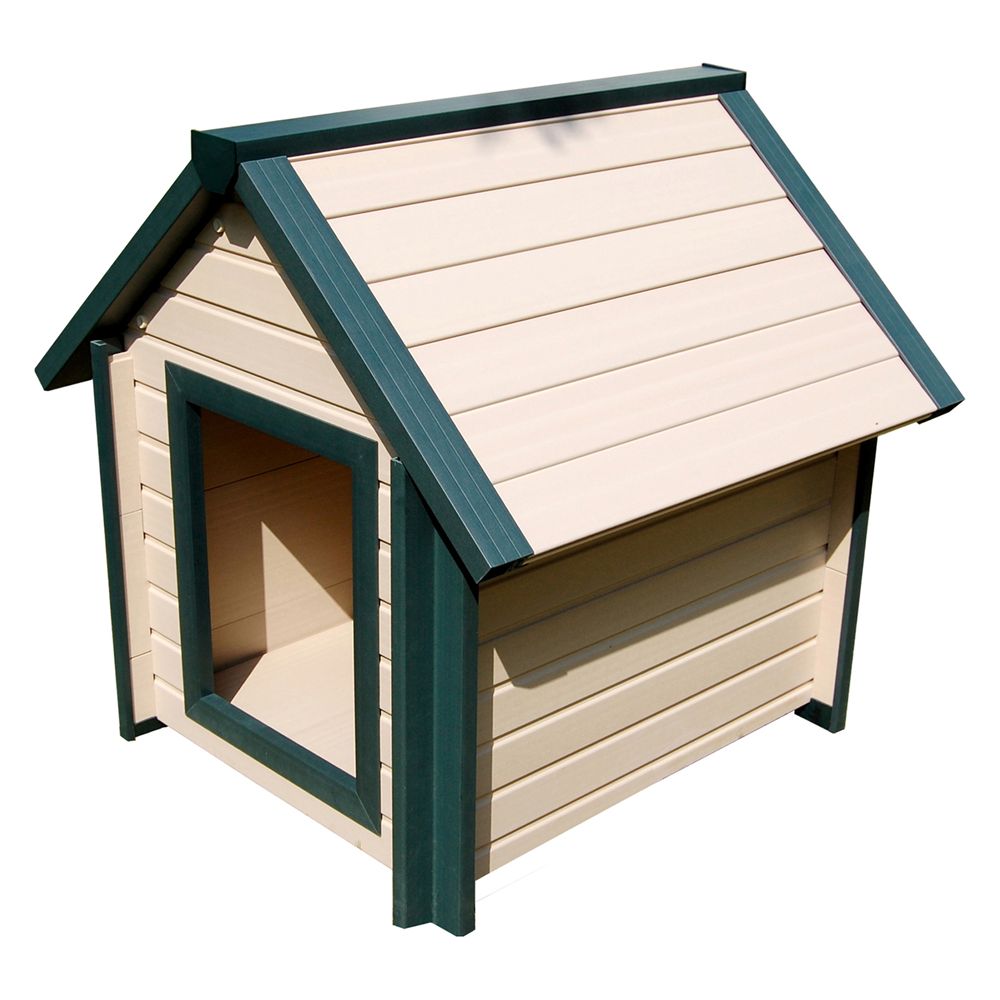 The New Age ecoFLEX Bunkhouse Dog House offers many wonderful features that include a traditional peaked roof line, raised floors and a step-in design. This well-ventilated and easy-to-clean house was designed with your pet's comfort and health in mind, and stands up to extreme climates to provide a comfortable resting place for your pooch. Features: Flow thru ventilation Suspended floors with no ground contact Large front deck Easy to clean Easy assembly No maintenance Can be easily painted if
Price: $229.99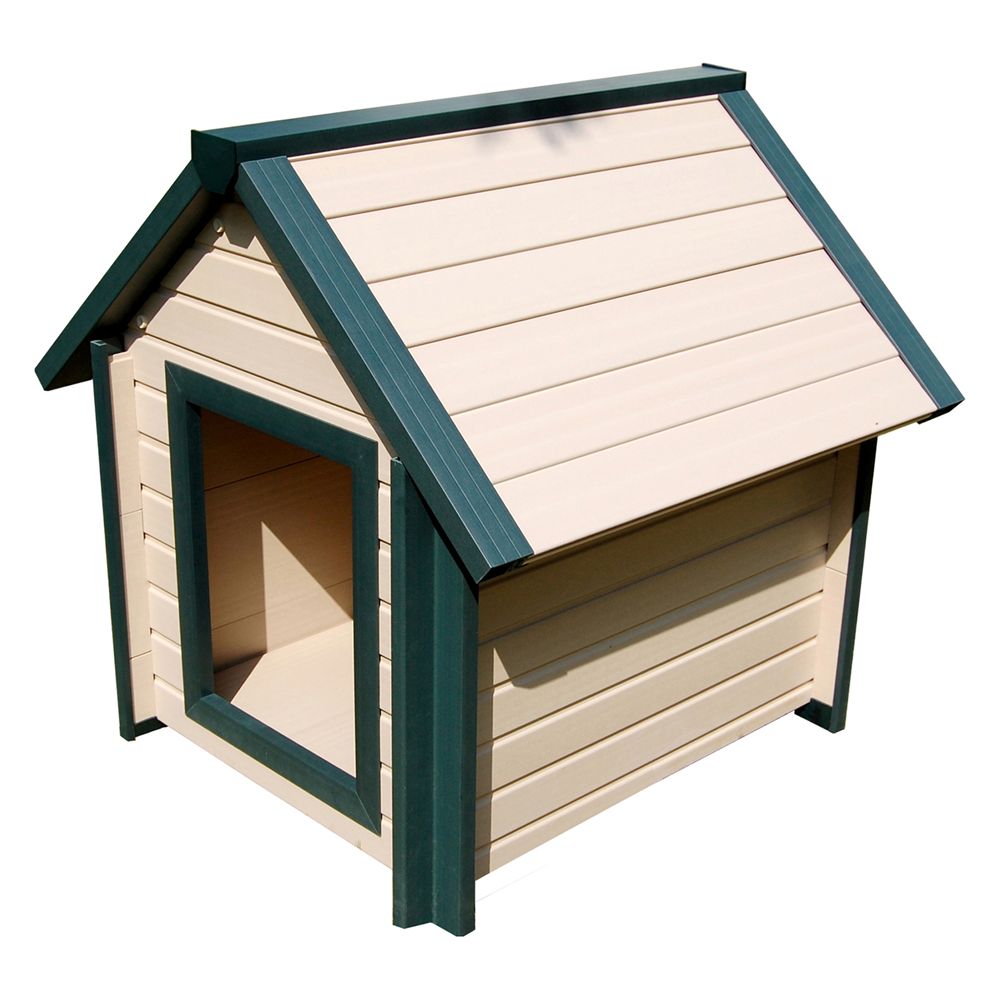 The New Age ecoFLEX Bunkhouse Dog House offers many wonderful features that include a traditional peaked roof line, raised floors and a step-in design. This well-ventilated and easy-to-clean house was designed with your pet's comfort and health in mind, and stands up to extreme climates to provide a comfortable resting place for your pooch. Features: Flow thru ventilation Suspended floors with no ground contact Large front deck Easy to clean Easy assembly No maintenance Can be easily painted if
from $190.99 - Offered by 2 merchants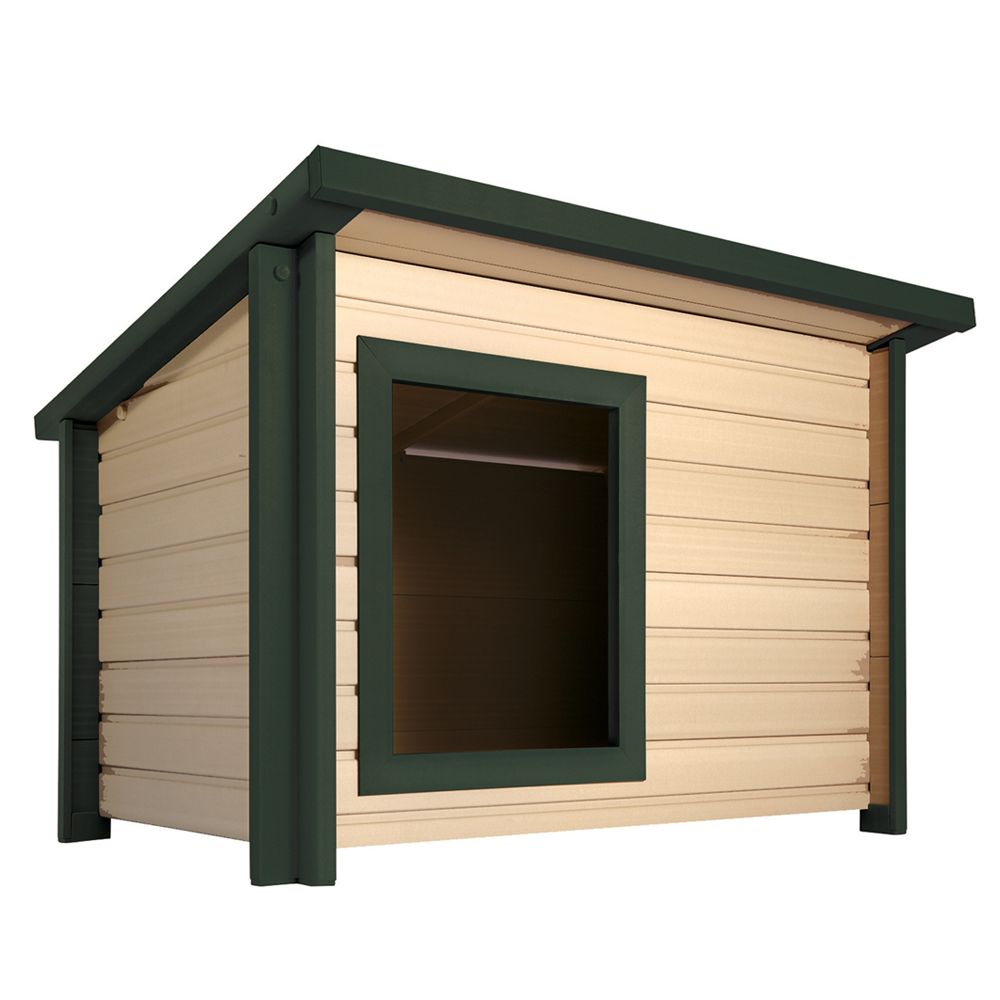 Provide an outdoor space for your dog that is designed with his health in mind with the New Age ecoFLEX Rustic Lodge Dog House. This home is well-ventilated and easy to clean, and features raised floors and a convenient step-in design. Additionally, its flat roof and side door lodge style allows pets to rest away from the door and even sit on top of their house if they choose. Features: Flow thru ventilation Suspended floors with no ground contact Easy to clean Easy assembly No maintenance Can
from $126.74 - Offered by 2 merchants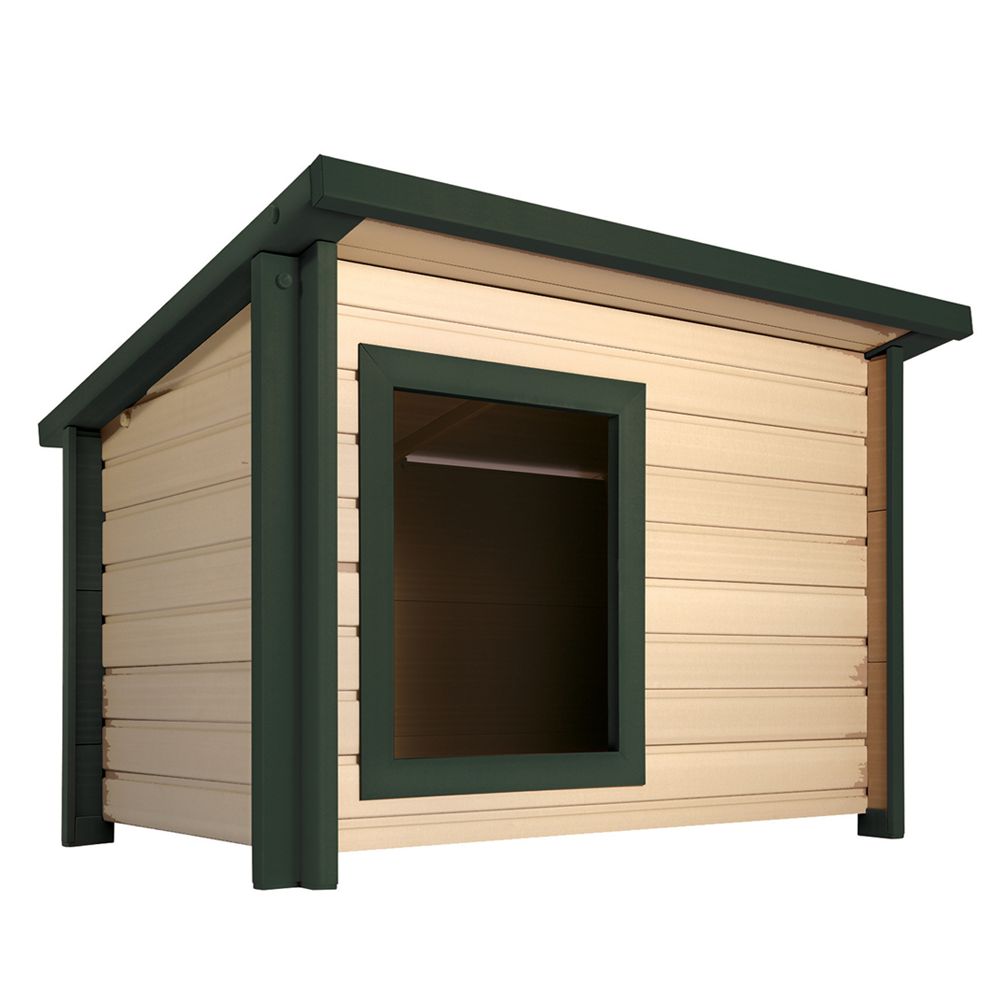 Provide an outdoor space for your dog that is designed with his health in mind with the New Age ecoFLEX Rustic Lodge Dog House. This home is well-ventilated and easy to clean, and features raised floors and a convenient step-in design. Additionally, its flat roof and side door lodge style allows pets to rest away from the door and even sit on top of their house if they choose. Features: Flow thru ventilation Suspended floors with no ground contact Easy to clean Easy assembly No maintenance Can
from $196.07 - Offered by 2 merchants
Habitat 'n Home InnPlace II is the perfect "place" for your pet when they're indoors. Made from ecoFLEX, a composite material made from polymers and reclaimed poplar wood fibers, the InnPlace II is a great value as it will outlast most other products designed for this use. With brushed stainless steel spindles in the door and the sides, the InnPlace II provides a level of security not available in similar products with wood or non-metal spindles. Popularly called a crate table, they do double
Price: $159.99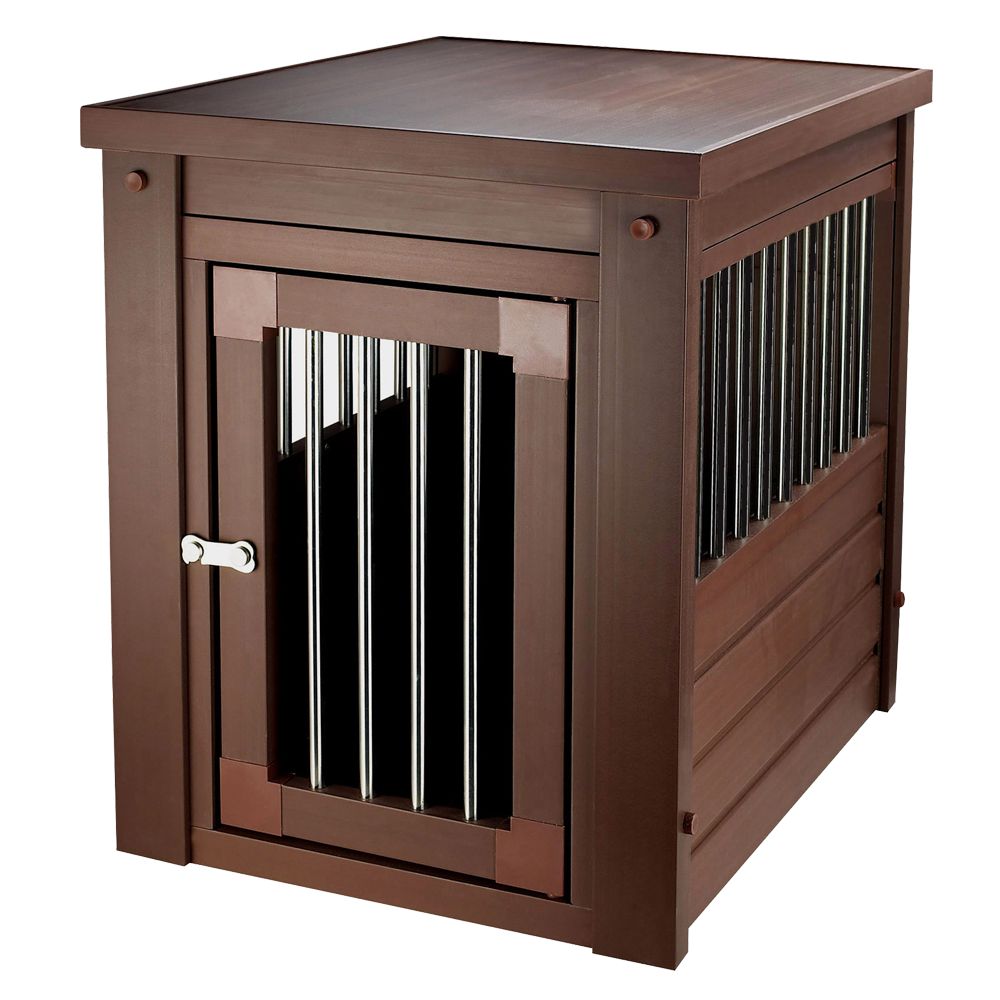 Habitat 'n Home InnPlace II is the perfect "place" for your pet when they're indoors. Made from ecoFLEX, a composite material made from polymers and reclaimed poplar wood fibers, the InnPlace II is a great value as it will outlast most other products designed for this use. With brushed stainless steel spindles in the door and the sides, the InnPlace II provides a level of security not available in similar products with wood or non-metal spindles. Popularly called a crate table, they do double
Price: $159.99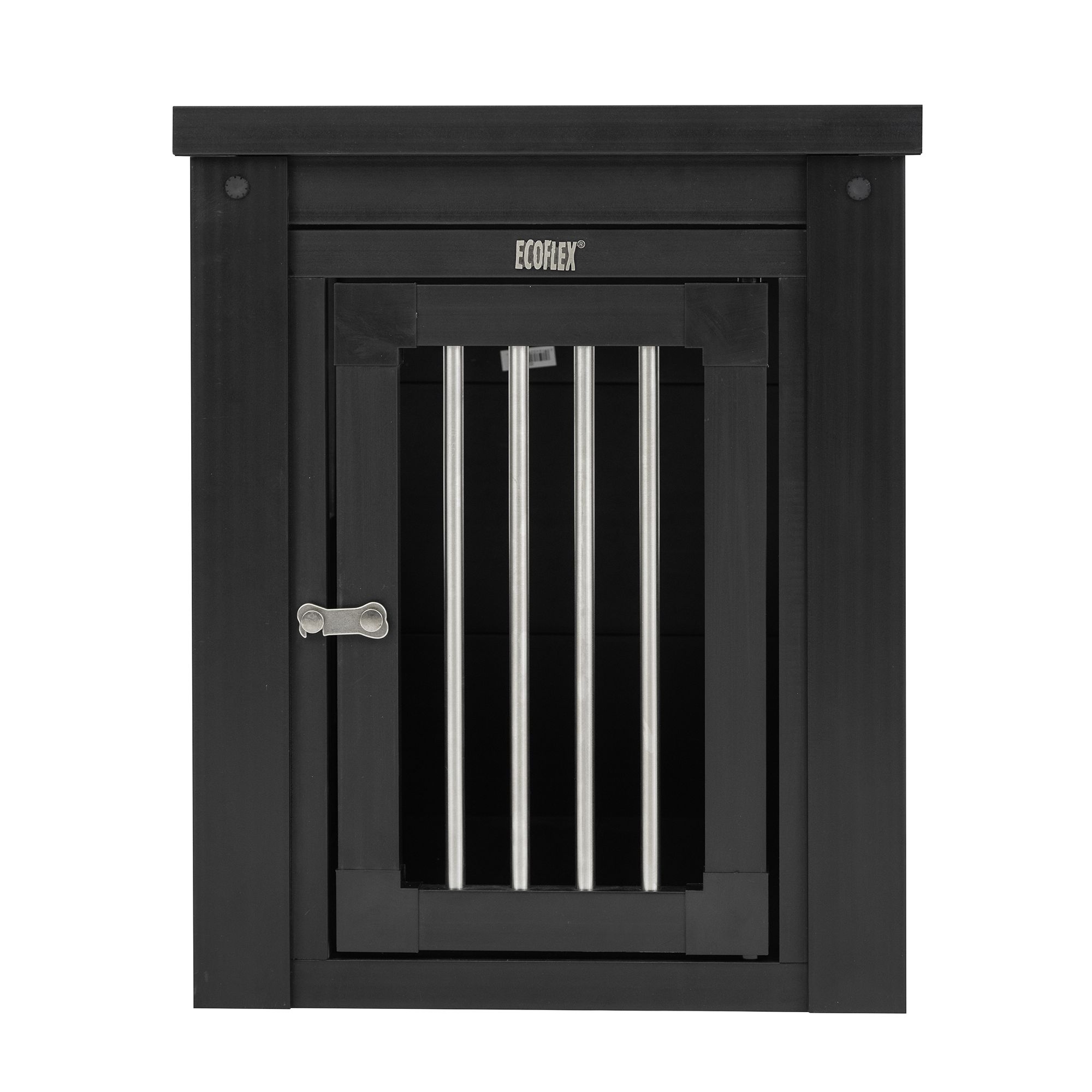 Habitat 'n Home InnPlace II is the perfect "place" for your pet when they're indoors. Made from ecoFLEX, a composite material made from polymers and reclaimed poplar wood fibers, the InnPlace II is a great value as it will outlast most other products designed for this use. With brushed stainless steel spindles in the door and the sides, the InnPlace II provides a level of security not available in similar products with wood or non-metal spindles. Popularly called a crate table, they do double
Price: $199.99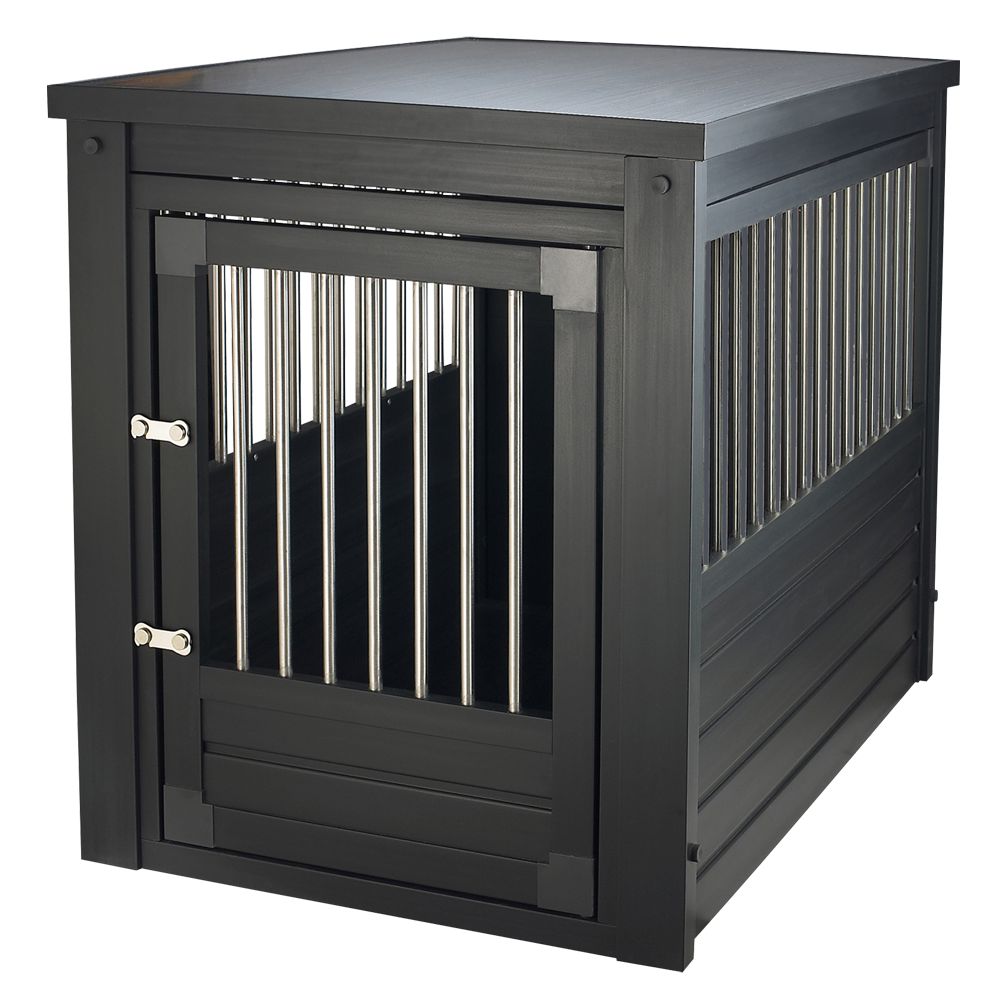 Habitat 'n Home InnPlace II is the perfect "place" for your pet when they're indoors. Made from ecoFLEX, a composite material made from polymers and reclaimed poplar wood fibers, the InnPlace II is a great value as it will outlast most other products designed for this use. With brushed stainless steel spindles in the door and the sides, the InnPlace II provides a level of security not available in similar products with wood or non-metal spindles. Popularly called a crate table, they do double
Price: $249.99
The Habitat 'n Home Litter Loo is the purrfect "place" for your frisky feline's litter pan. With its furniture like design and finish it can do double duty in many homes, serving as a Mission Style End or Lamp Table in the family room, bedroom or living room. The Litter Loo and its additional Habitat 'n Home suite of products let's your pet be close to the family without out having to deal with the unsightly litter pan that is better suited for the laundry room, bathroom or kitchen. The best
Price: $93.99 - On Sale!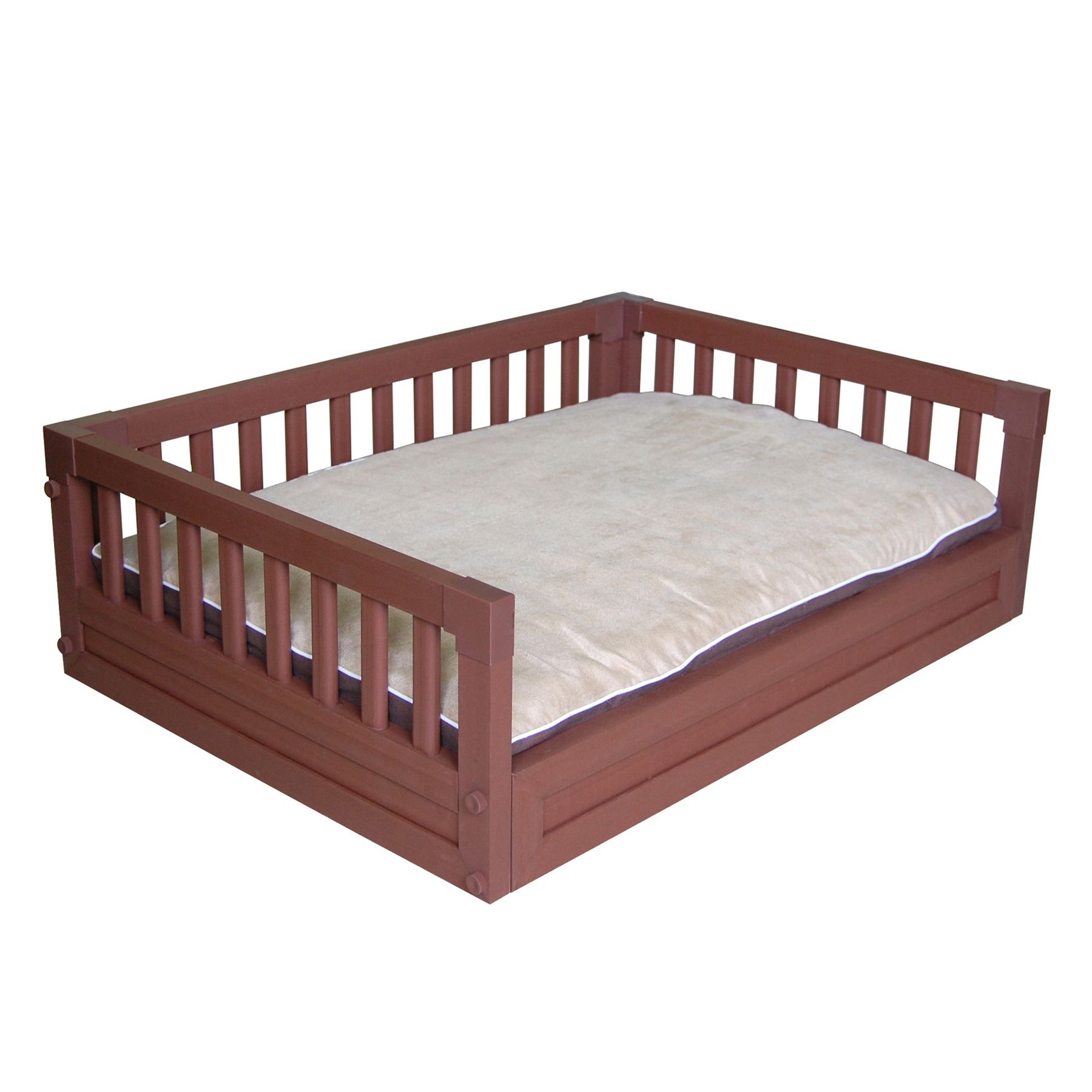 Habitat 'n Home My Buddy's Bunk is the stylish and comfortable bed that every pet deserves. The popular Mission style bed frame is right at home in your family room, bedroom or living room. With its furniture like appearance, My Buddy's Bunk and its additional Habitat 'n Home suite of products let's your pet be part of the family instead of just tossing a fabric bed on the floor in a corner. The best for your pet. the best for you! Features: Comfortable and stylish Thick, removable, washable
Price: $57.60 - On Sale!