Search Results (showing 1 to 10 of 19)
The third generation Bark Terminator 3 is a completely new and advanced Bark Control System with three different modes of bark or howl detection plus the ability to select Shock or No-Shock with each mode. This allows you to tailor your own custom training program for most any dog. Corrections When the collar detects a bark or howl it generates an annoying "correction" which always consists of an audible tone and, if enabled, a low current shock. The dog learns that the annoyance goes away when
Price: $89.99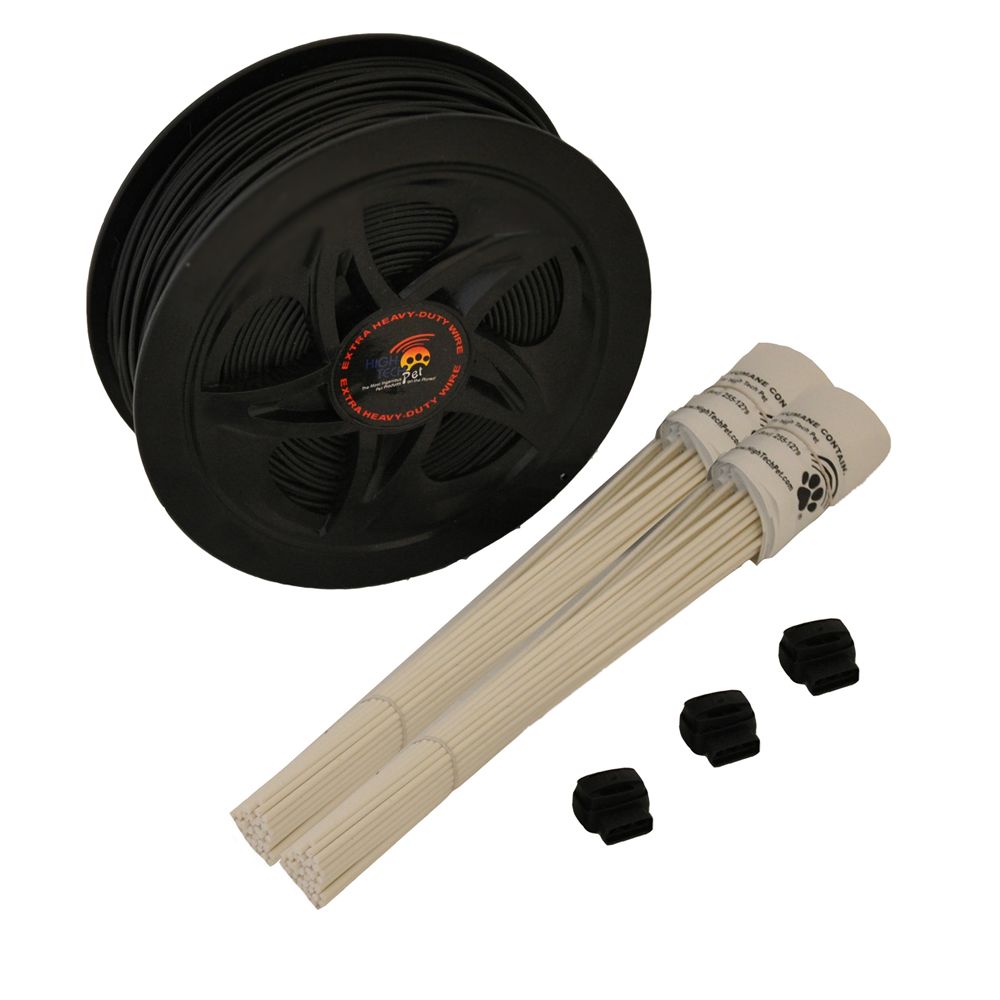 Extend your electronic fence boundary an extra 500 feet Suitable for use with any brand electronic fence Solid copper core Extra high-strength insulation Resistant to sunlight, moisture, ground rot Resists breaking Model BE-500 Expand the coverage of your electronicfence. Boundary Extension Kit gives you 500 feet of customengineered Ultra Wire, 50 boundary flags and 5 waterproof wiresplices. This wire is specially engineered for electronic dogfences with electrical and mechanical properties
Price: $59.99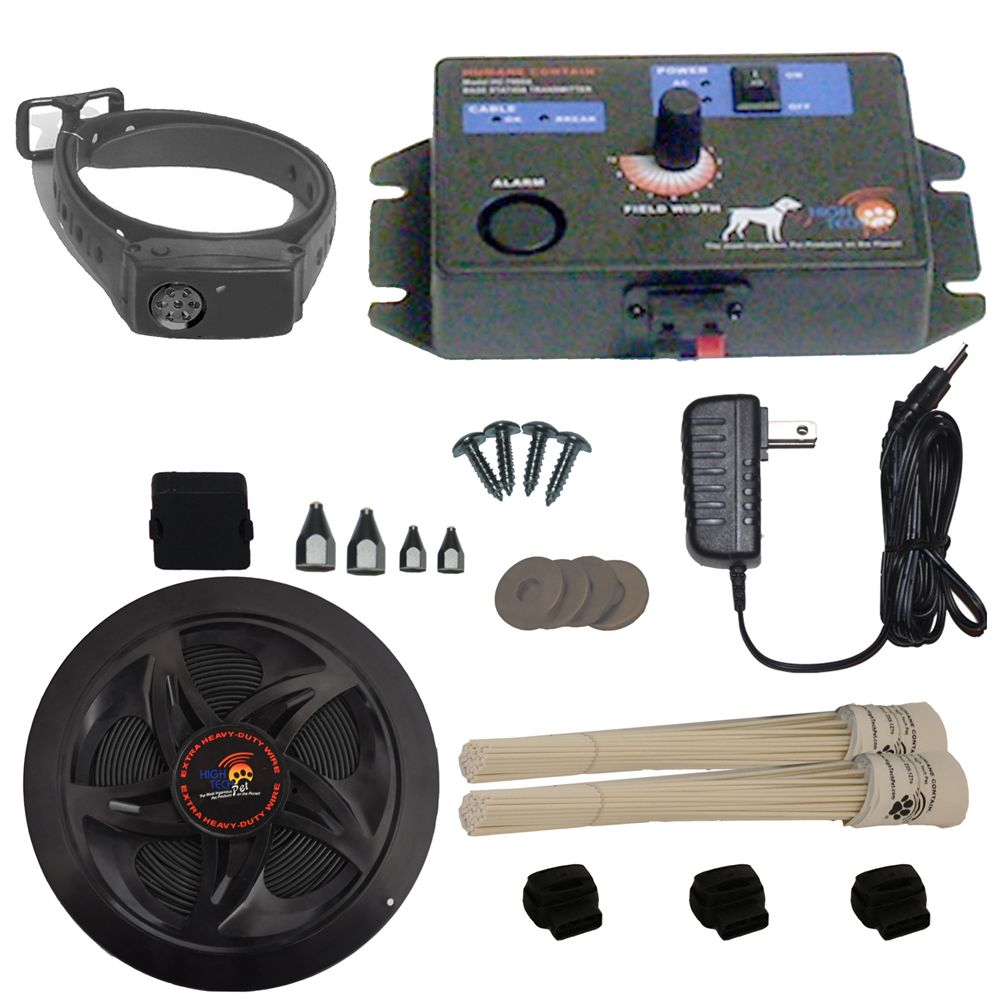 The New Humane Contain Electronic Fence Super System brings youultra advanced technology at a value price providing secure, reliable and humane dog containment. Includes everything you need: TX-7 transmitter, RC-7 radio collar, 500 feet Ultra-Wire, 50boundary flags, 5 wire splices, long and short hair probes, step-by-step installation and training manual. Features theproprietary pulsed proportional stimulus system which sets thehumane contain brand apart from all other electronic dog fences. New
Price: $89.99 - On Sale!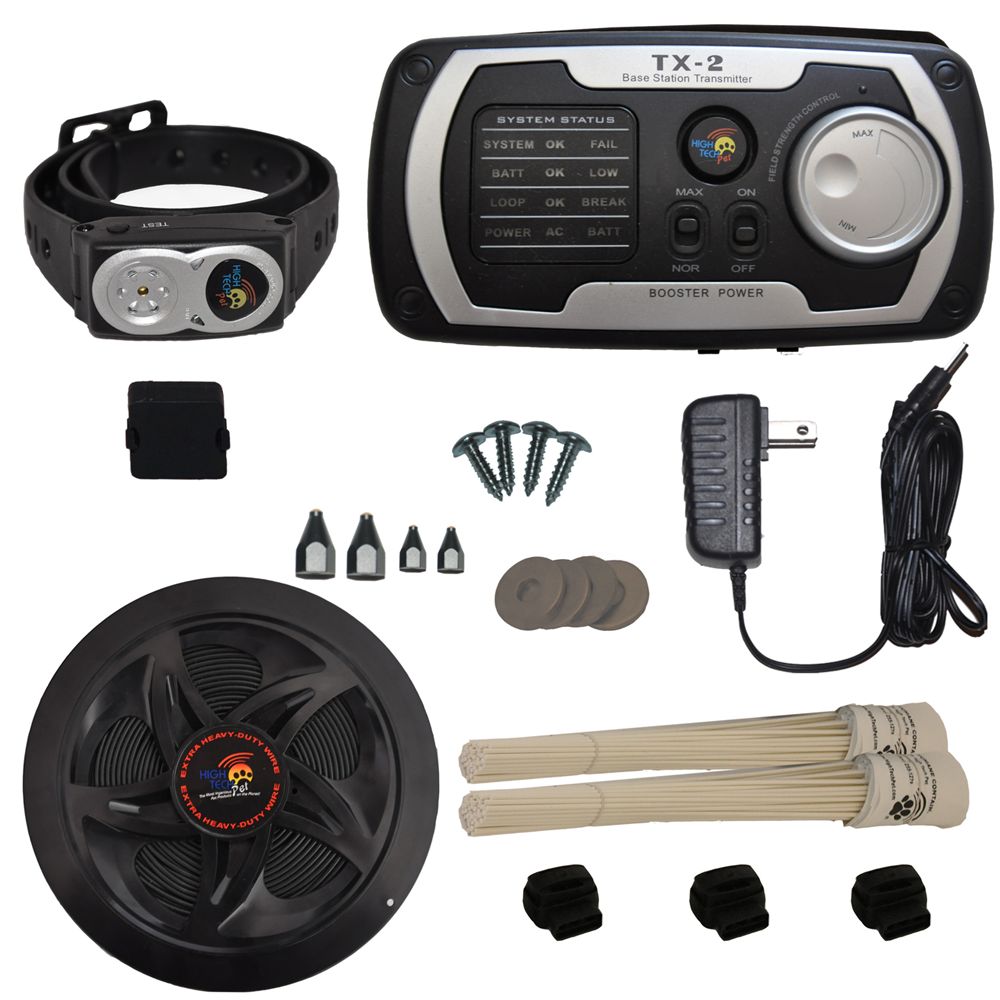 This High Tech/Humane Contain HC-8000 Electronic Ultra Dog Fence provides a wonderfully effective and technologically-advanced way to keep your dog within the area of space you desire. This unique system features delivers a shock stimulus in short bursts to the radio collar as your dog moves closer to the boundaries you have set up in your yard. Your dog decides for himself how much stimulus it takes for him to retreat. In no time at all your dog will learn what his boundaries are courtesy of
Price: $179.99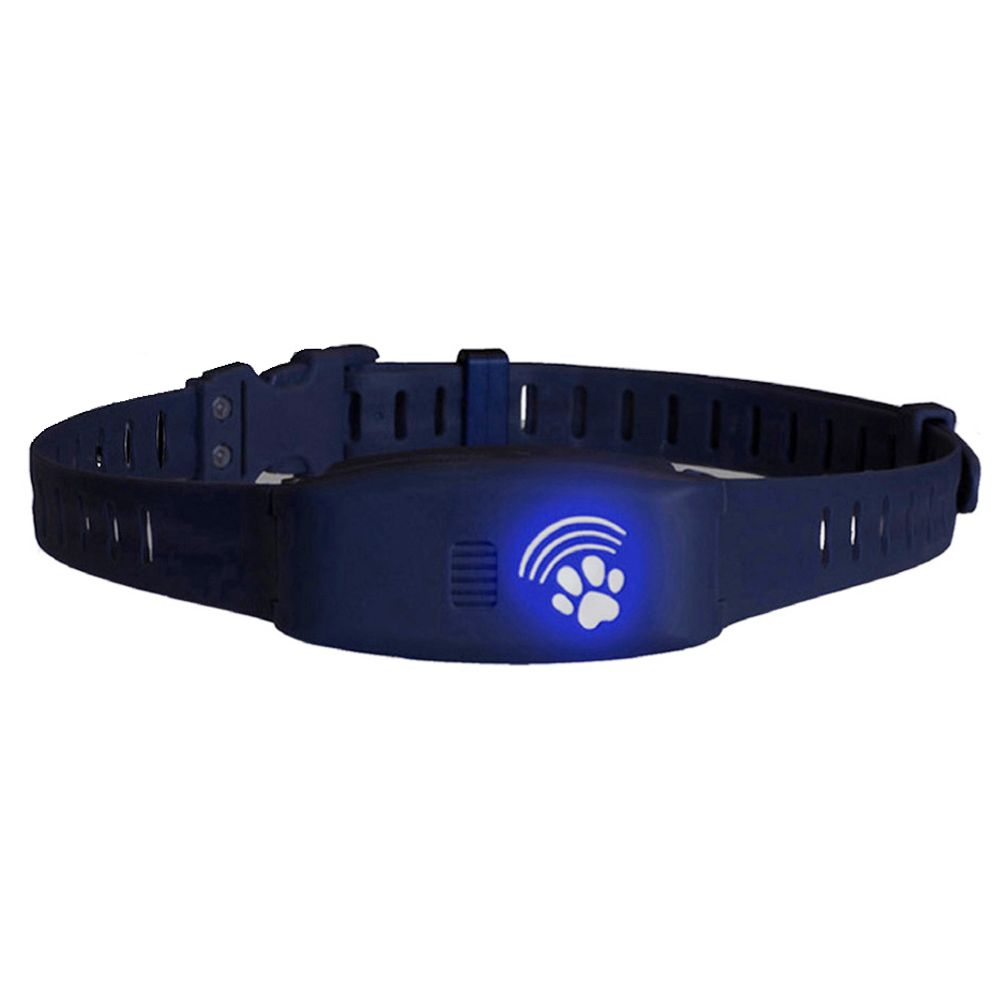 The new, Bluefang Smart Phone Controlled Fence System BF-22 collar is a remote trainer, bark control and electronic fence collar all in one. It's all controlled by your iPhone or Android. Remote dog training uses audible tones to quickly teach "good dog" behaviors such as, sit, stay and heel. 3 corrective stimulus levels stop "bad dog" behaviors like digging, jumping and chewing. Use the factory presets or customize the stimulus intensity and duration of each level to your dog's individual
Price: $169.99 - On Sale!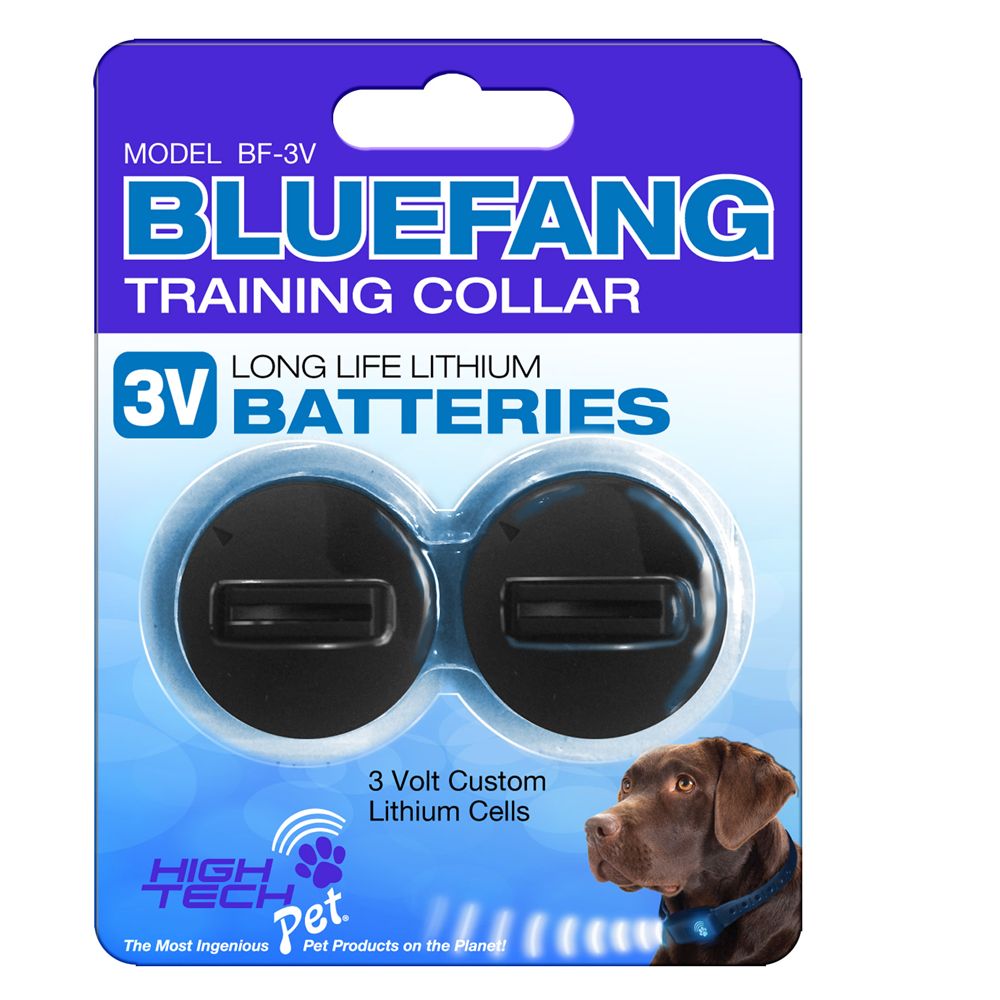 Count on the BlueFang Long Life Lithium battery to power your BF-16 and BF-22 electronic pet collars. These batteries supply 3 and 6 volts to the collar simultaneously, providing long-lasting life and allowing you to use these collars to maximum effect. Features: For BF-16 and BF-22 BlueFang collars. Lasts approximately 2 months. Uses the highest quality lithium cells. Includes: 2 Batteries Intended For: Dog Leash Type: Fits BF-16 and BF-22 Collars Color: Blue Material: Plastic Dimensions: .5
Price: $13.99 - On Sale!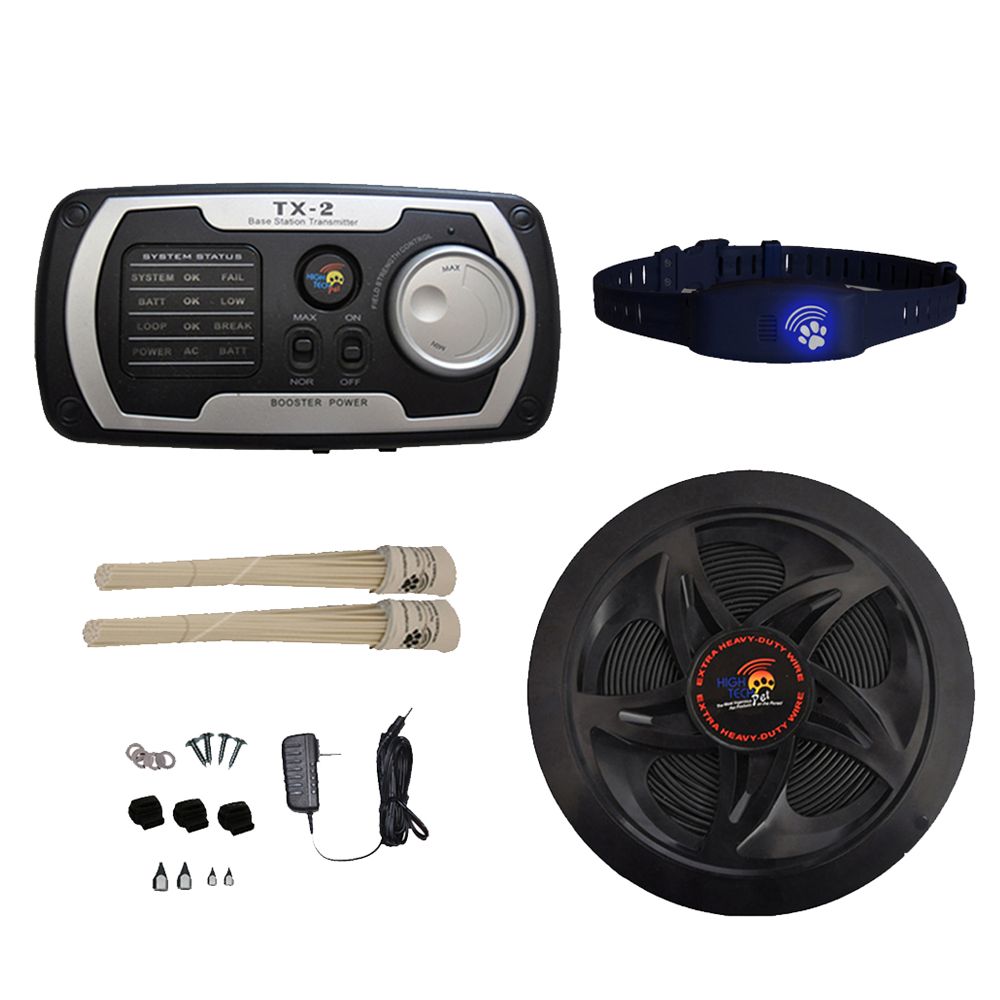 Bluefang X-22 is a complete electronic fence kit with remote training and bark. Bluefang technology lets you control your dog's collar with your iPhone or Android from 400 ft. Comes with BF-22 collar, transmitter, 500' of ultra-wire, 50 flags, waterproof splices and mounting hardware. The perimeter is expandable to 50 acres with purchase of additional wire. Pulsed Proportional Stimulus prevents run-through by automatically increasing stimulus as your dog moves toward the boundary for the most
Price: $299.99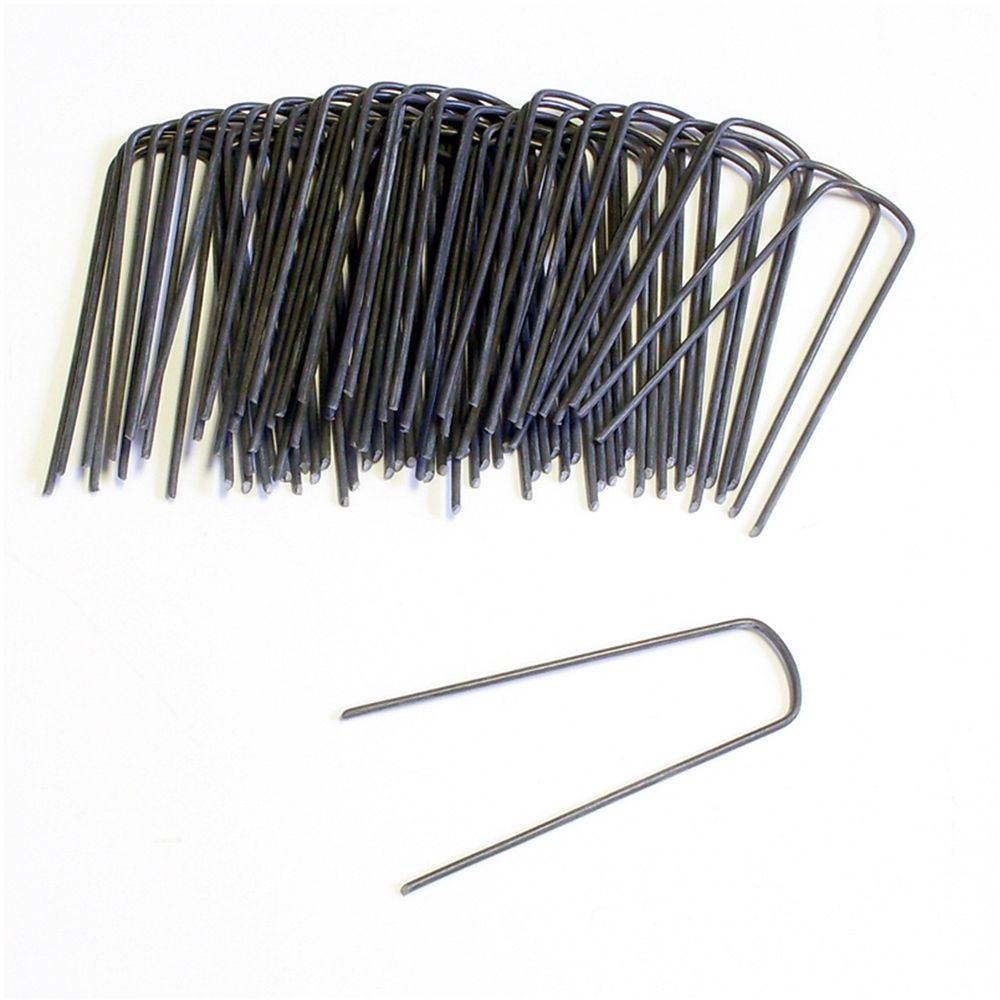 Makes installing your boundary wire quick and easy Eliminates the need to burry your boundary wire Use for pre-installation test or for above ground wireinstallation Can be used with any electronic fence brand and all types ofboundary wire Model YS-50 Avoid the work and expense of buryingyour electronic fence boundary wire. Just lay out your wire andclamp in place with these convenient yard staples. Rust resistant10 gauge steel staples measure 1 X 6 long. In time grass will growover the wire
Price: $11.49 - On Sale!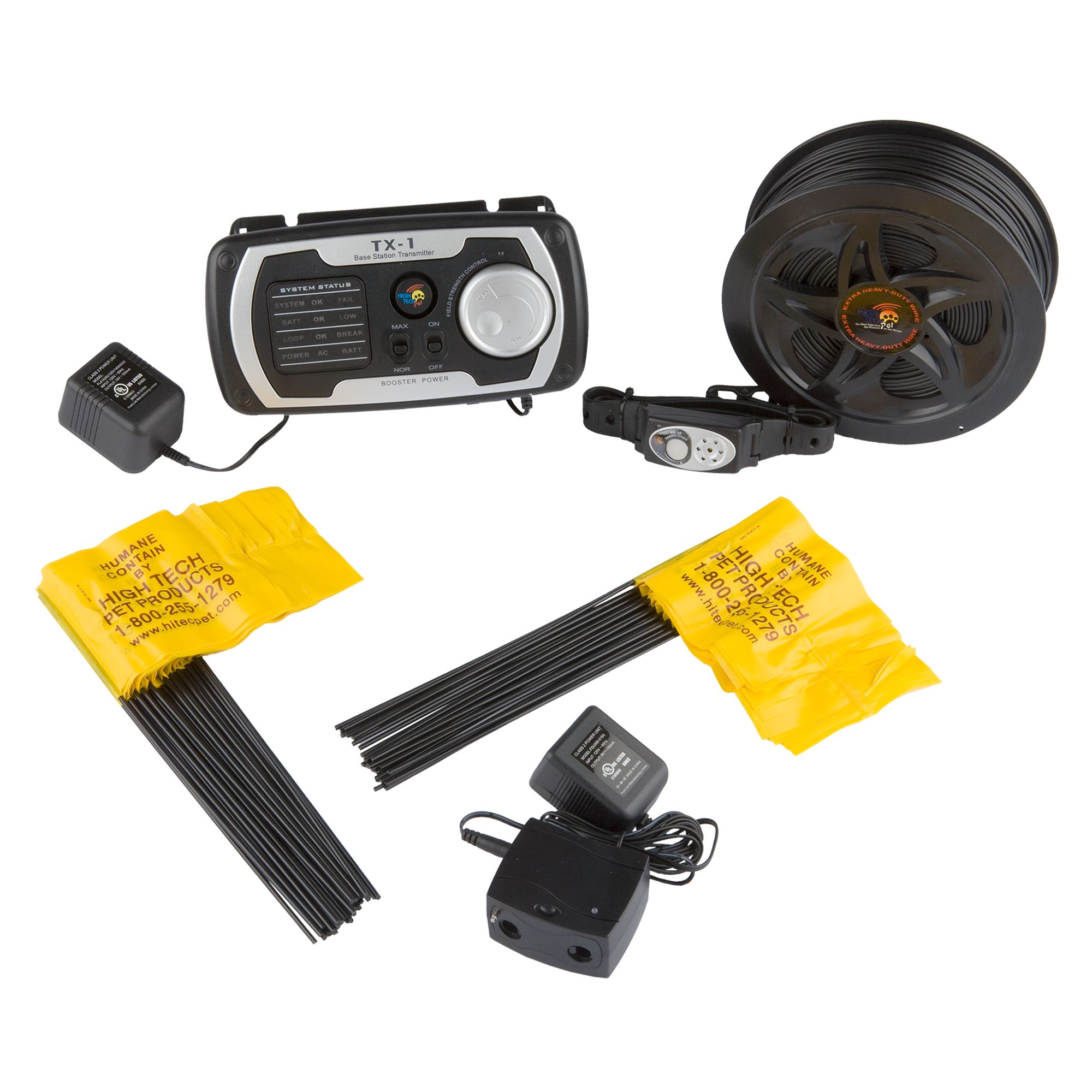 Advanced electronic fence system from High Tech Pet features stateof the art technology that provides gradual electronic stimulationfor quick, humane training. Its multi-functional rechargeablecollar operates with all PAW (Pet Automated World) productsincluding the Power Pet door and the Sound Barrier Indoor SonicFence (each sold separately).This electronic fence has a PulsedProportional Stimulus system that offers quick, humane training. This system continuously increases sound and shock pulse
Price: $199.99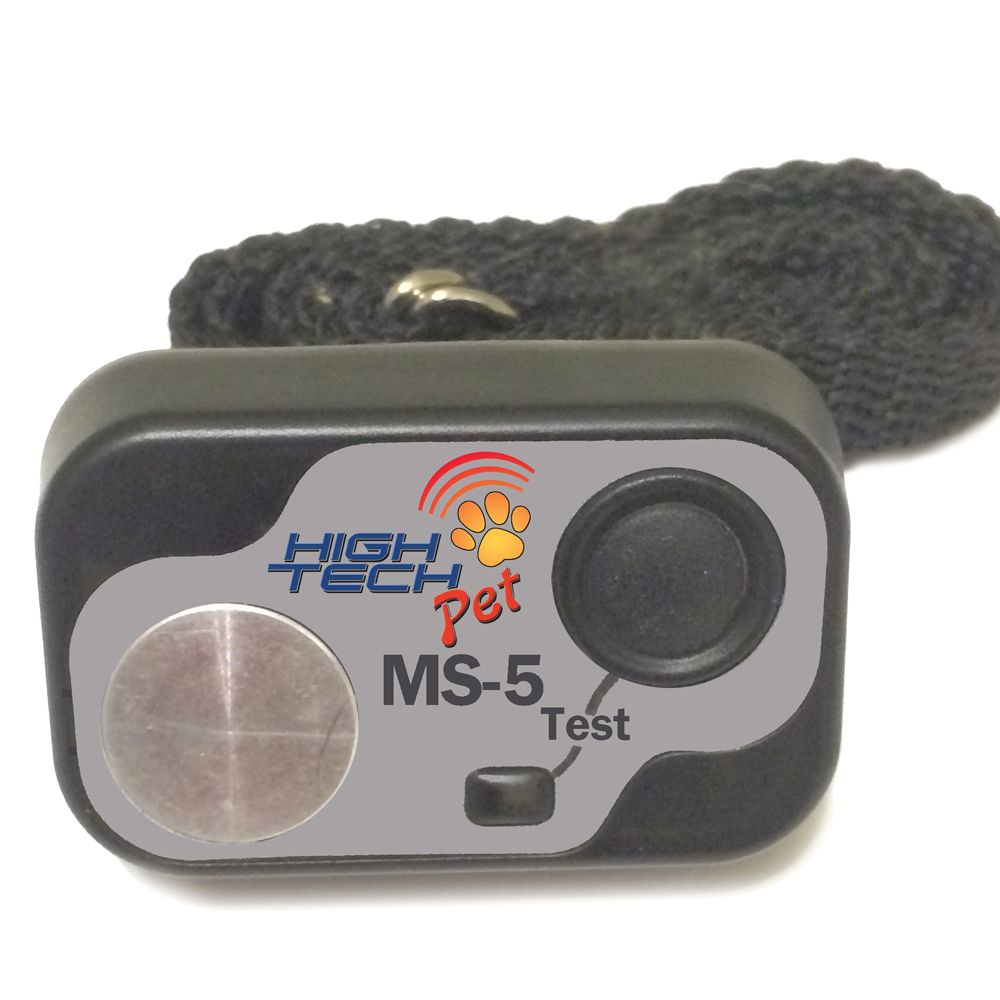 The High Tech MS-5 Electronic Dog Collar features digital circuitry in a state-of-the-art design that provides a strong signal and maintains accuracy over all temperature ranges. This collar is extra rugged so it won't get damaged during your dog's "ruffhousing." With a robust, fully enclosed ultrasonic transducer speaker, it is immersible to 6ft, and although it is not recommended to immerse your dog in 6 ft of water without scuba gear, the collar will stay high and dry! Features: Fully
Price: $49.99 - On Sale!