Products by Cardinal Gates
Search Results (showing 1 to 10 of 10)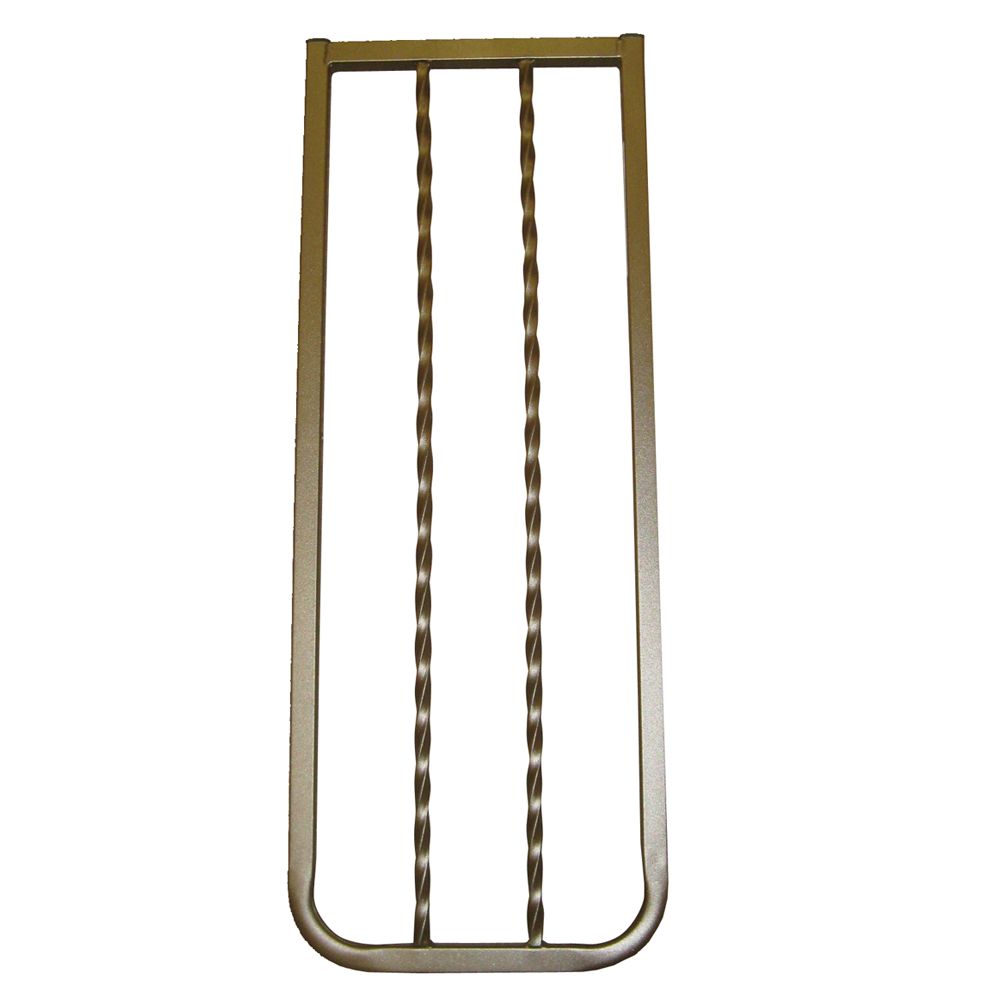 Fabulous and Functional! Add 10.5" of width to your Wrought Iron Decor Pet Gate (Model WI-30BZ) with this attractive extension, Model WIX-BZ. The extension works exclusively with the Wrought Iron Decor Gate (Model WI-30BZ) and features the same durable construction and powder-coated finish. The bar spacing is also the same as the gate at 2.5-inches wide. A maximum of one extension may be used per gate. Features: Adds 10.5 inches to Wrought Iron Decor Gate, easy to install Includes: All hardware
Price: $39.99
The Cardinal Gates Auto-Lock Pet Gate is a great gate for high-traffic areas. The Auto-Lock Pet Gate features a patented latch that allows rapid pass-through in either direction. Simply pull and twist the latch to open. To close, just swing the gate shut. This gate has quick and simple installation. The Auto-Lock Gate is constructed of aluminum, which is lighter weight than steel and rustproof. Two optional width extensions, 10.5" and 21.75", are available separately. The powder-coated finish
Price: $99.99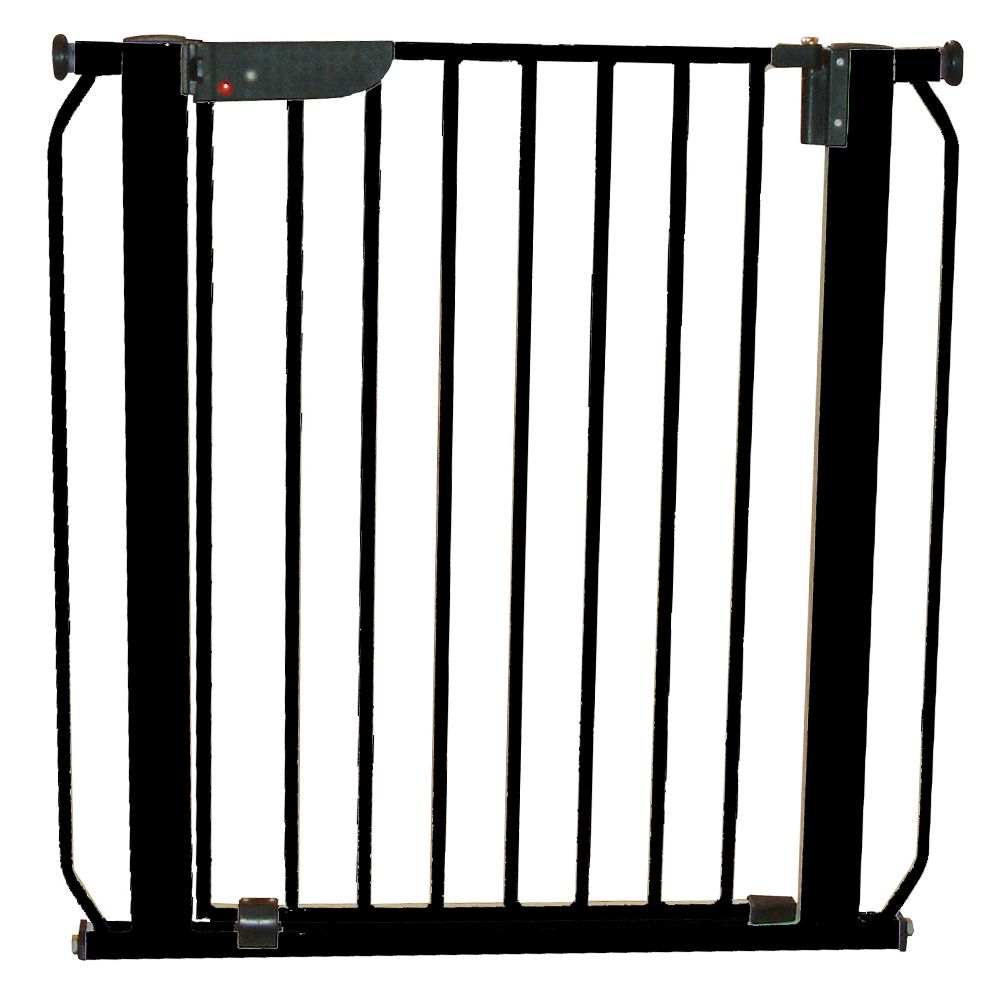 The Pressure Gate for high-traffic areas! The Cardinal Gates Auto-Lock Pressure Gate features a durable, superior latch. True to its name, this gate automatically locks when closed and, because it requires no hardware, is easily portable from room to room. Not recommended for top-of-the-stair use. Features: Automatically locks when closed Simple to install: can be operational in minutes (no screws necessary) Easy to use: one hand operation Quickly mobile - can be installed in multiple locations
Price: $89.99
Designed for indoor use, the Auto-Lock Gate (Model MG-15) is a great pet safety gate for high traffic areas. The Auto-Lock Gate's width is adjustable from 26.5 inches to 40.5 inches. The patented latch allows rapid pass-through in either direction. Simply pull and twist the latch to open and to close, just swing the gate shut. Choose the direction you want the gate to swing with use of the included stop bracket (optional to install). This gate has quick and simple hardware-mounted installation.
Price: $99.99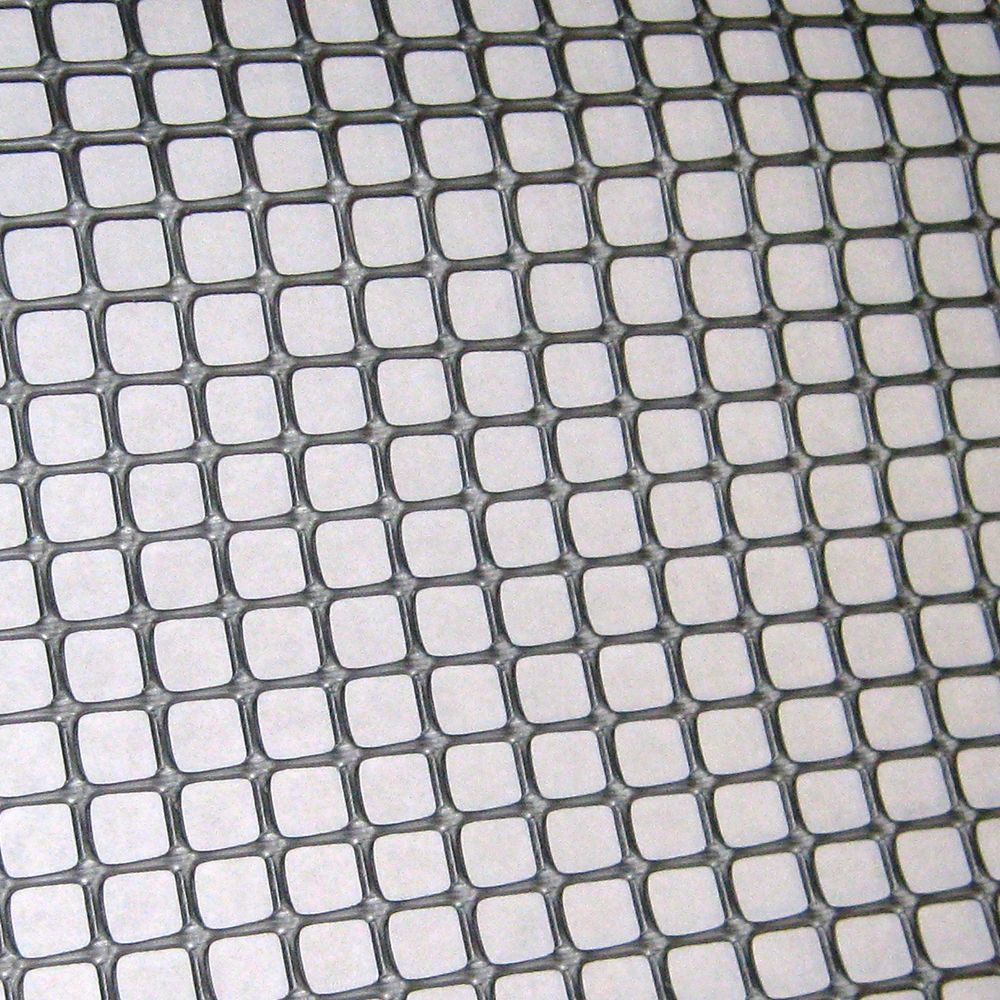 Cardinal Gates Deck Shield Outdoor Pet Safety Netting is an ideal safety solution for protecting pets from openings in outdoor decks and patios. Crafted of high-density material, this netting is heavy-duty and thicker than most other deck netting on the market. The UV-resistant, flexible plastic is tough but can be cut with scissors. The hole size in the netting measures 1/2 an inch. Silver Deck Shield Outdoor Safety Netting is easy to install, with all necessary hardware included. Sold as a
Price: $69.99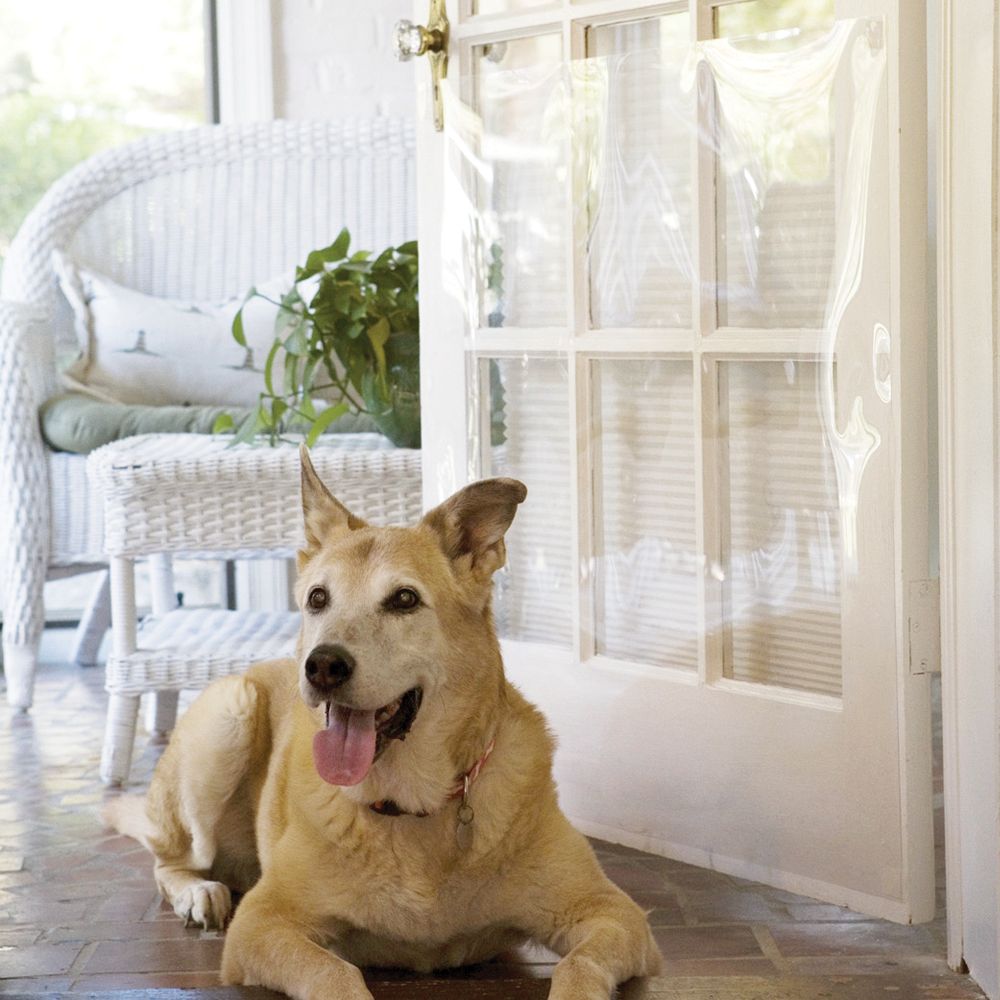 Protects door against pet scratches, nicks, and other markings Made from high strength, crystal clear plastic Designed to fit standard doors Adheres to door by using high strength adhesive Prevent pet scratches by using the Door Shield. Made from tough, crystal clear plastic, this product is designed to fit standard sized doors, but can be cut for smaller doors. Adheres to the door using high strength adhesive. For larger dogs consider using two Door Shields to increase height.
Price: $19.99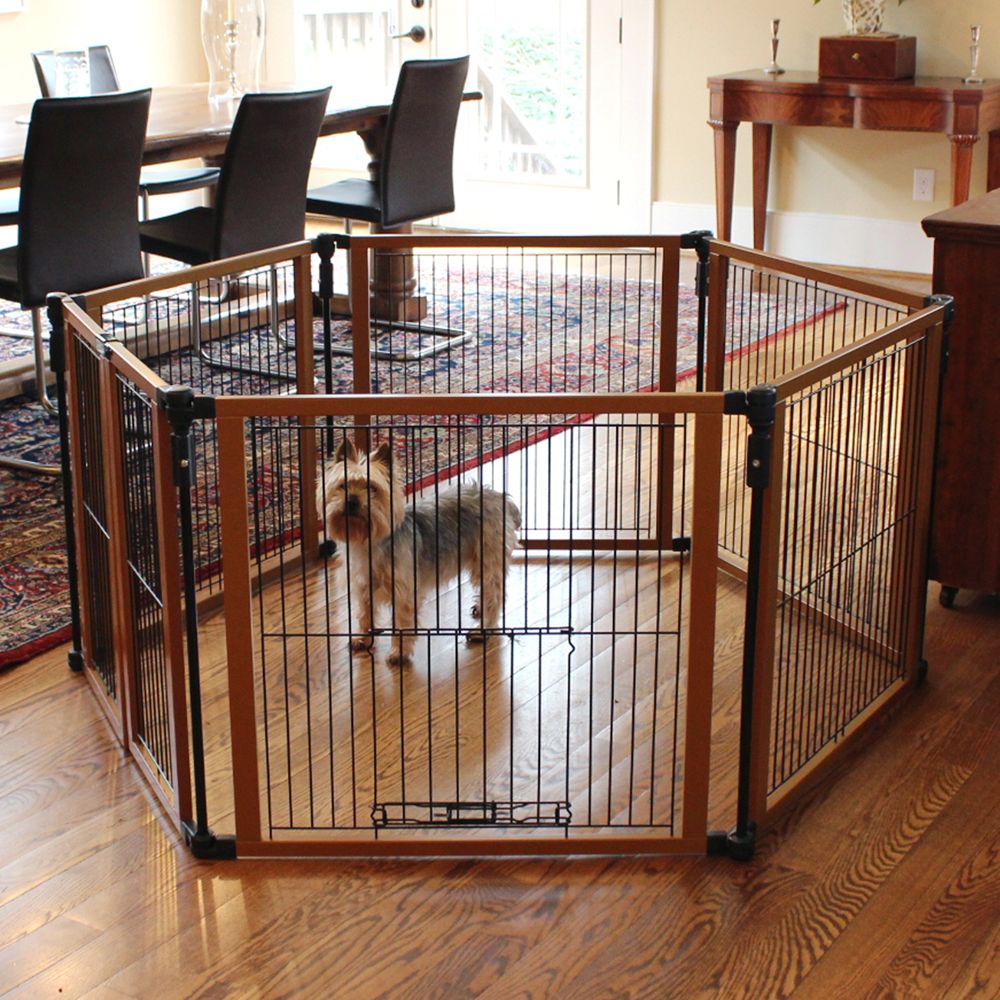 No assembly required! Highly configurable>Built-in puppy door Accordion fold for easy storage 6-panel gate: 5 solid panels + two half-panels that formdoor Each panel is 30" wide Gate height: 26.5" There is a 1.75" space between the black post & wood frameof panel. Bar spacing is 1" within each panel. Max span is 12' when configured in a straight line. The Cardinal Gates PERFECT FIT PETGATE (model PFPG) is truly perfect! NO assembly required, this gateis ready to use, right out of the box.
Price: $299.99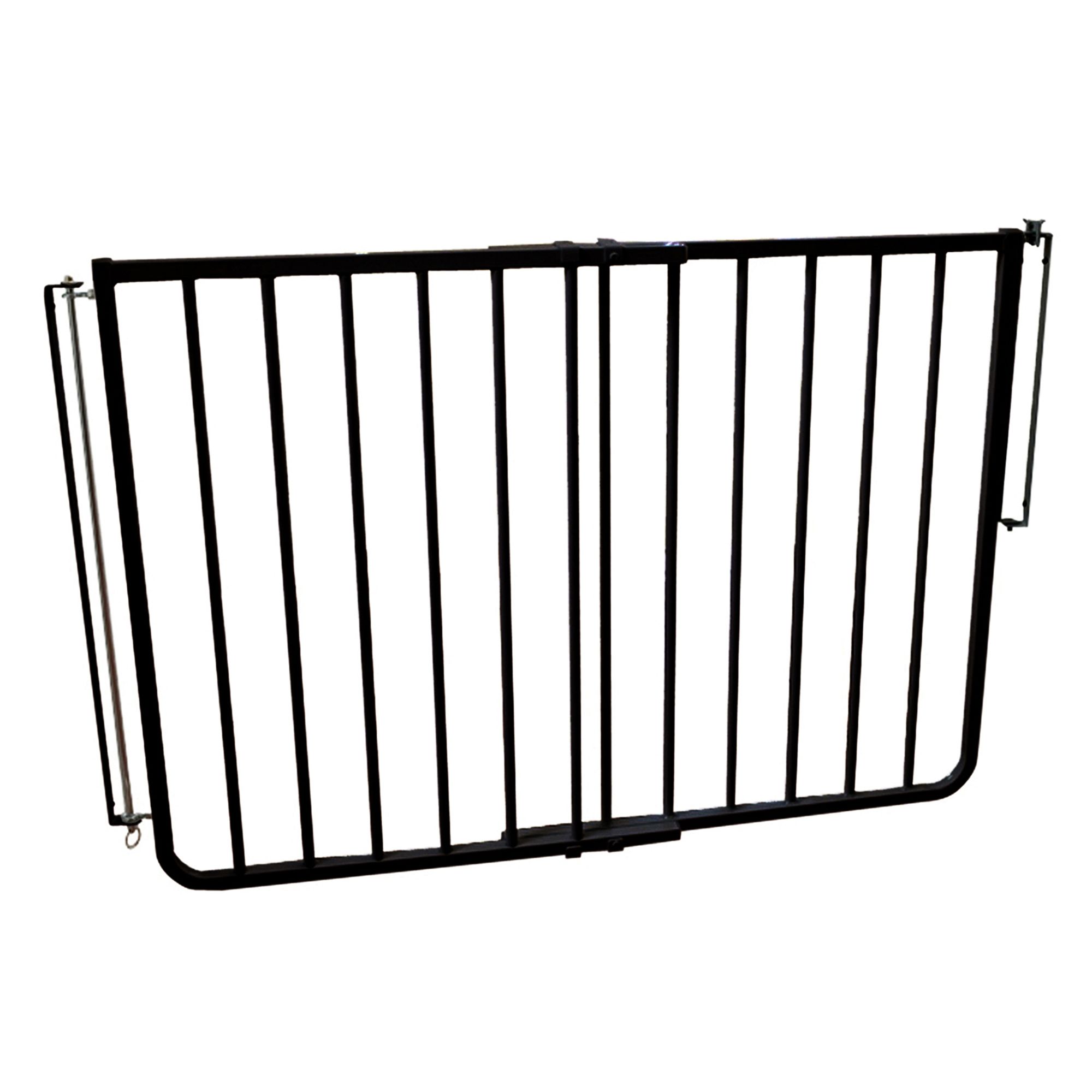 The Cardinal Gates Stairway Special Outdoor Pet Gate (Model SS-30OD-WH) is our maximum safety gate for pets. As its name indicates, this gate is designed for top-of-stairway use but is great for decks, patios, and other outdoor areas. Conveniently, the width is adjustable from 27 to 42.5 inches. It features a latch that allows one-handed operation for pet parents. The gate swings open in either direction. A stop bracket (optional to use but included) prevents the gate from opening out over the
Price: $104.99
The VersaGate is the most versatile gate on the market. This modular system has a variety of extensions, enabling endless configurations. Versagate can span large areas, it can navigate difficult spaces, and it can even be made into a pen! The VersaGate features a 40-inch door section with a large 24-inch opening and rubber-coated stabilizing feet to increase stability and prevent scratching floors. Width spans from 40-inches to 77.25-inches depending on configuration. Constructed of rugged
Price: $118.29 - On Sale!
A beautiful pet safety gate? YES! The Cardinal Gates Wrought Iron Decor Pet Gate (Model WI-30BZ) is the perfect marriage of both safety and style! With its spiral spindles, you'll love this beautiful new "twist" on safety gates. Ideal for your dogs, the Wrought Iron Decor Gate features heavy-duty construction and is designed for indoor use. This attractive gate features a latch that allows one-handed operation. The gate can swing open in either direction. A stop bracket (optional to use but
Price: $129.99