Search Results (showing 1 to 10 of 119)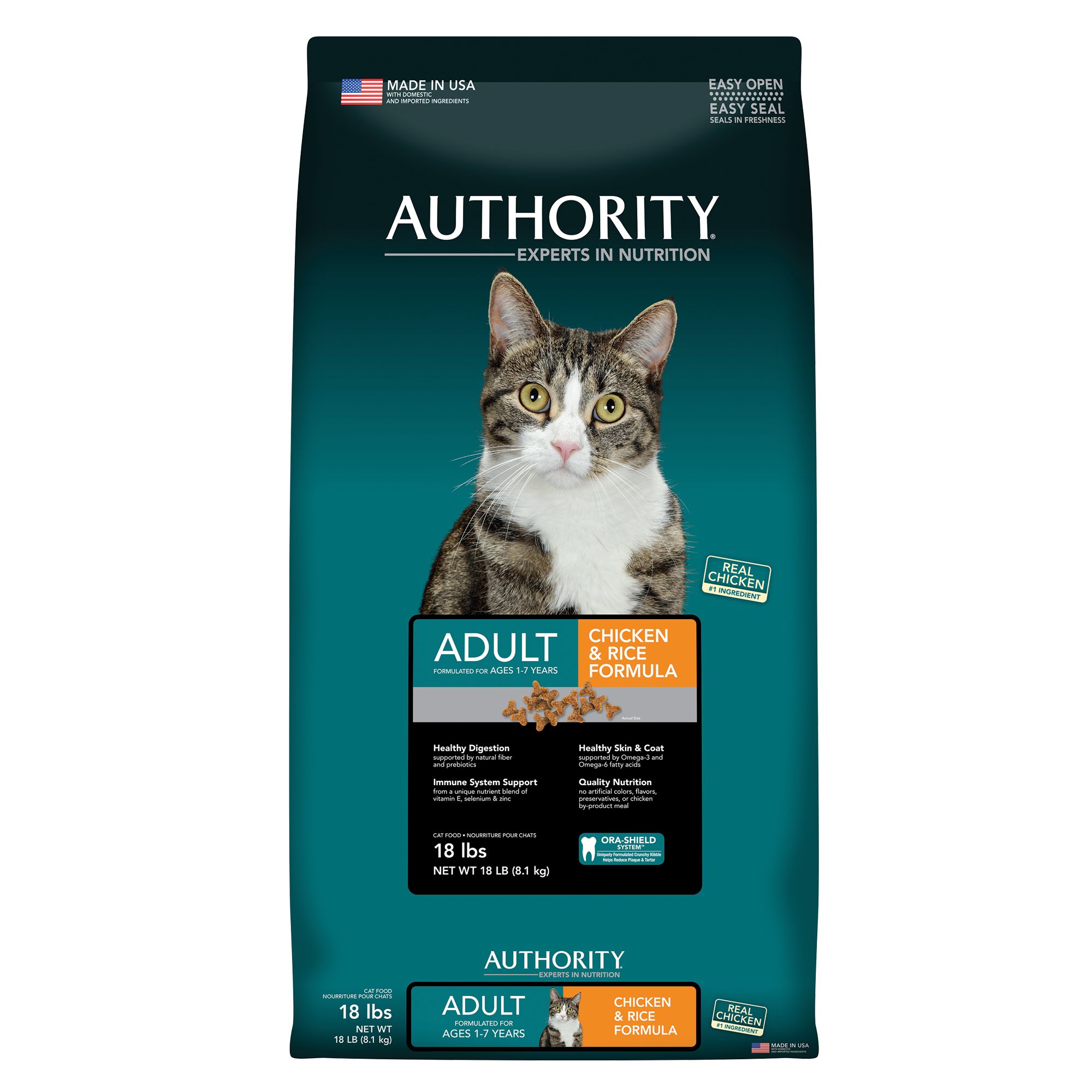 Your adult cat deserves a food that looks after his health and provides him with great taste in every bite. Authority Chicken and Rice Formula Adult Cat Food is just such a food, and is one you can feel good about serving to your feline friend because it is made from all-natural ingredients. Only at PetSmart. Features: No artificial flavors or colors, Formulated for indoor cats Food Type: Dry Food Food Consistency: Kibble Life Stage: Adult Flavor: Chicken and Rice Primary Ingredient: Chicken
Price: $26.99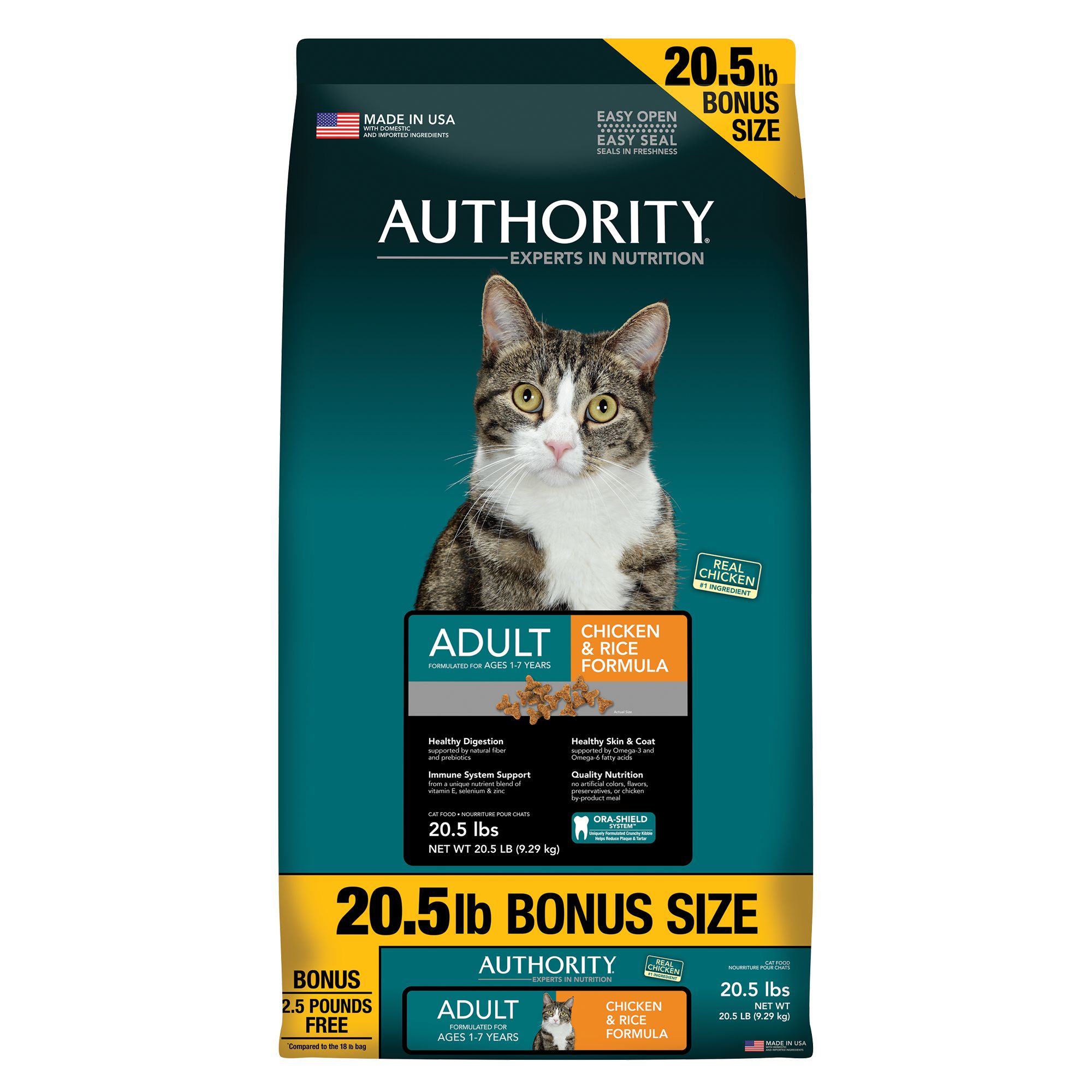 Your adult cat deserves a food that looks after his health and provides him with great taste in every bite. Authority Chicken and Rice Formula Adult Cat Food is just such a food, and is one you can feel good about serving to your feline friend because it is made from all-natural ingredients. Only at PetSmart. Features: No artificial flavors or colors, Formulated for indoor cats Food Type: Dry Food Food Consistency: Kibble Life Stage: Adult Flavor: Chicken and Rice Primary Ingredient: Chicken
Price: $26.99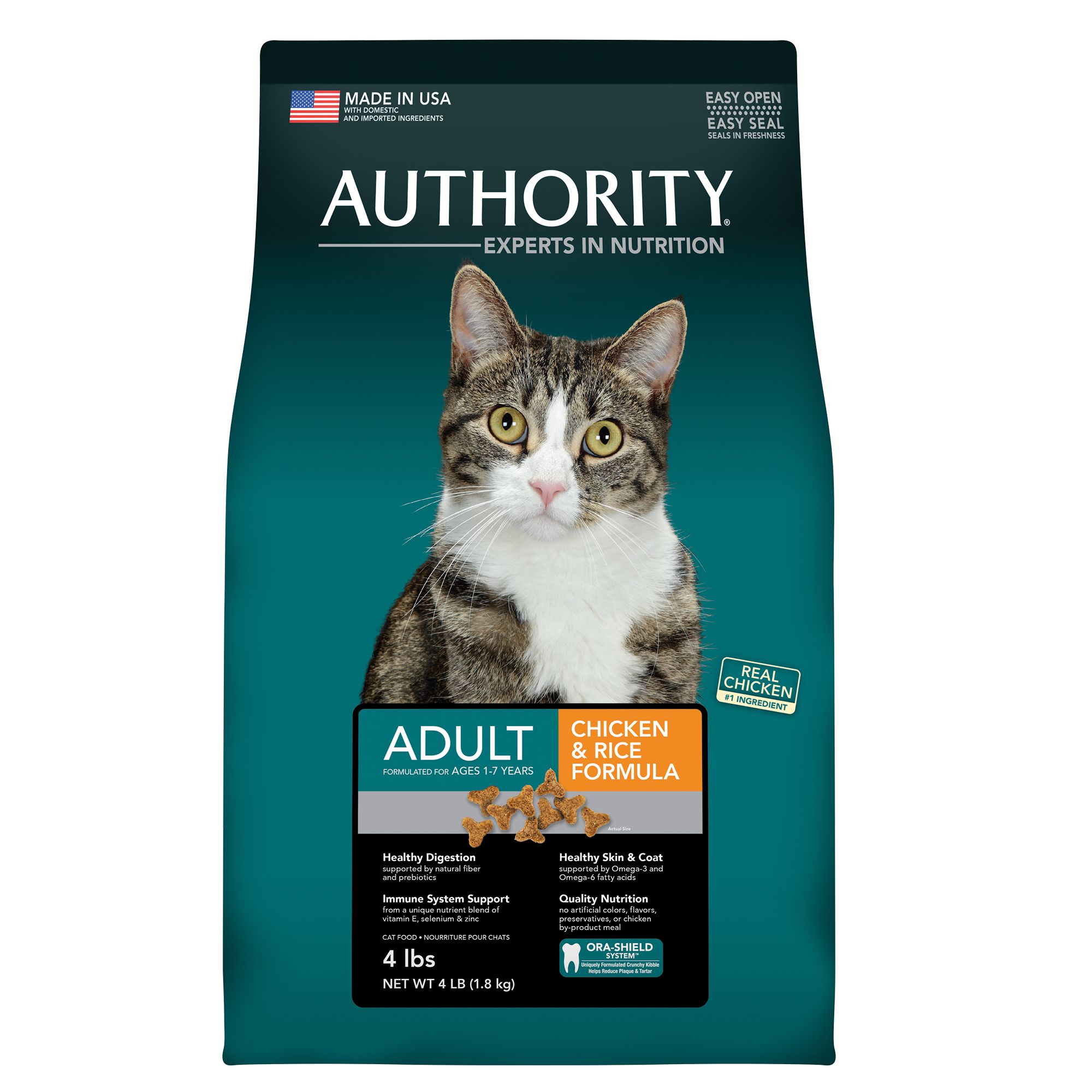 Authority Chicken and Rice Formula Adult Cat Food can benefit your cat on a variety of levels. Healthier skin and a shinier coat, improved digestion and immune system support are just a few of the benefits you can expect from this delicious blend, which is made with real chicken and all-natural ingredients. Only at PetSmart. Features: No artificial flavors or colors, Formulated for indoor cats Food Type: Dry Food Food Consistency: Kibble Life Stage: Adult Flavor: Chicken and Rice Primary
Price: $9.99
Authority Chicken and Rice Formula Adult Cat Food offers a number of wonderful benefits, beginning with its great taste. Beyond the flavor that will keep your cat coming back for more is an ingredient list that is all-natural for a balanced and nutritional diet. Only at PetSmart. Features: No artificial flavors or colors, Formulated for indoor cats Food Type: Dry Food Food Consistency: Kibble Life Stage: Adult Flavor: Chicken and Rice Primary Ingredient: Chicken Package Weight: 8 lb (3.6 kg)
Price: $14.99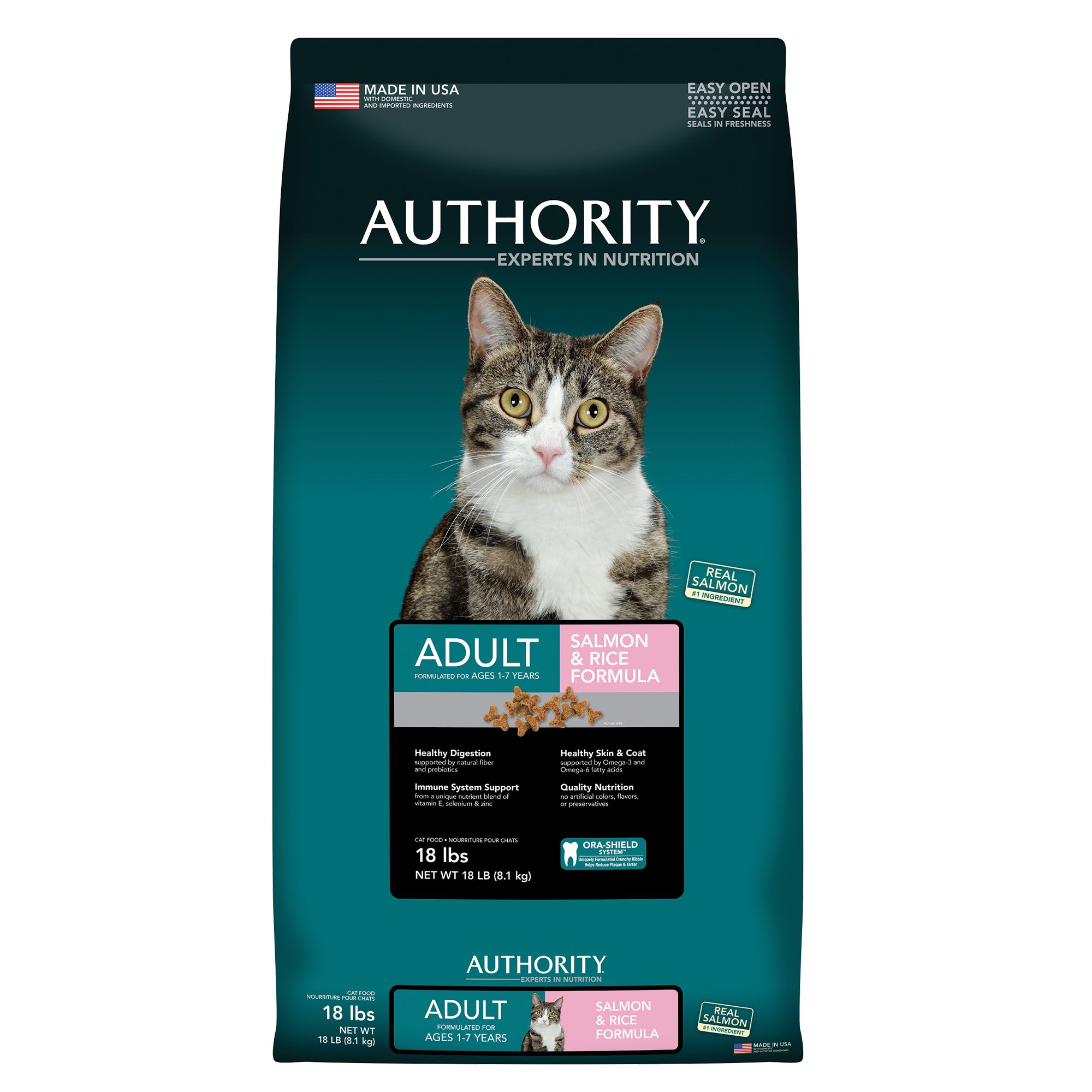 Treat your cat to the delicious taste of salmon in every bite of Authority Salmon and Rice Formula Adult Cat Food. This blend is made with real salmon and essential nutrients that will help your adult cat to thrive. Only at PetSmart. Features: No artificial flavors, colors or preservatives Food Type: Dry Food Food Consistency: Kibble Life Stage: Adult Flavor: Salmon and Rice Primary Ingredient: Salmon Package Weight: 18 lbs (8.1 kg) Feeding Instructions: Cats, by nature, like to eat small meals
Price: $26.99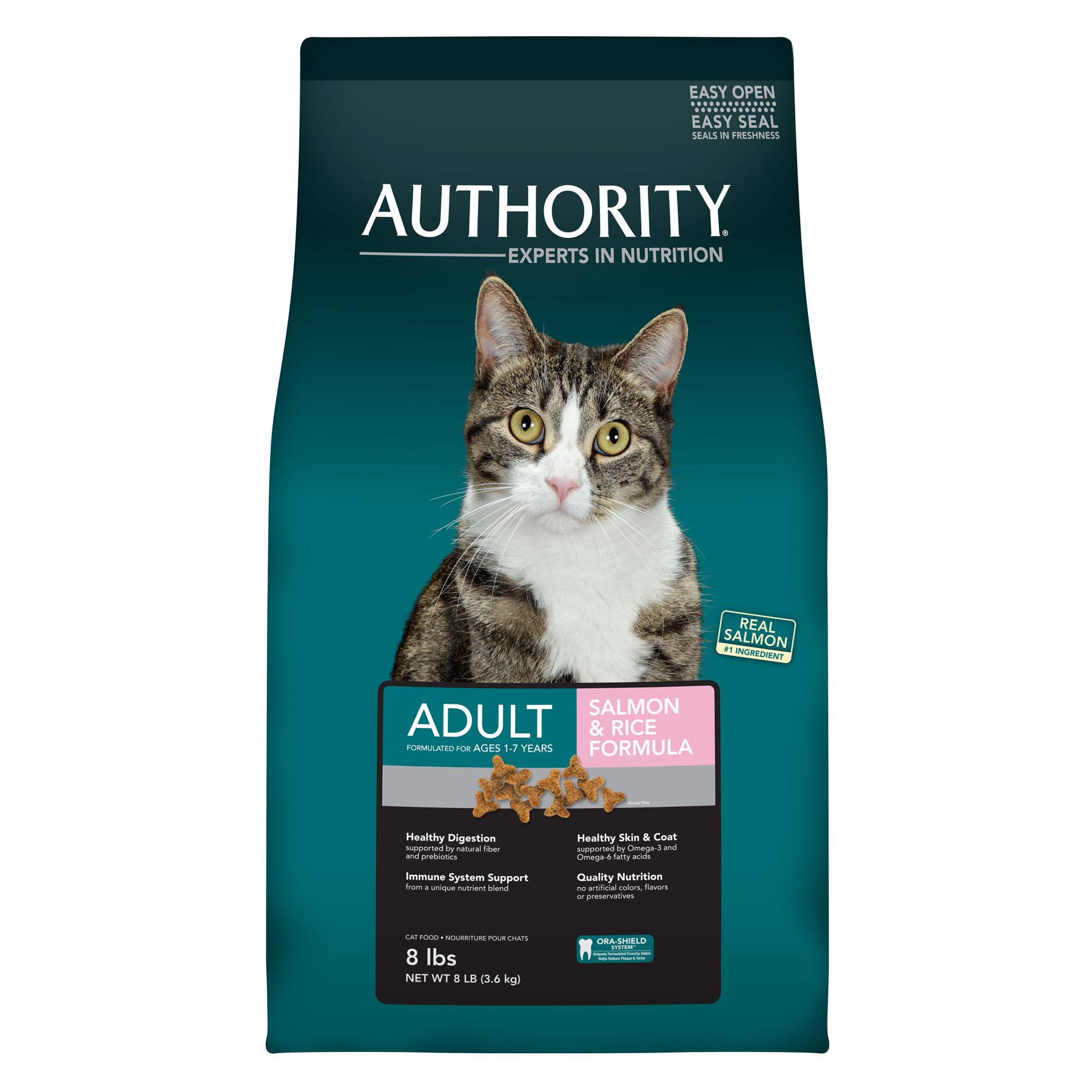 Great taste and proper nutrition are both front and center in Authority Salmon and Rice Formula Adult Cat Food. Serving your cat this delicious blend at meal time means assuring that she benefits from the all-natural ingredients and essential nutrients in each bite. Only at PetSmart. Features: No artificial flavors, colors or preservatives Food Type: Dry Food Food Consistency: Kibble Life Stage: Adult Flavor: Salmon and Rice Primary Ingredient: Salmon Package Weight: 8 lbs (3.6 kg) Feeding
Price: $14.99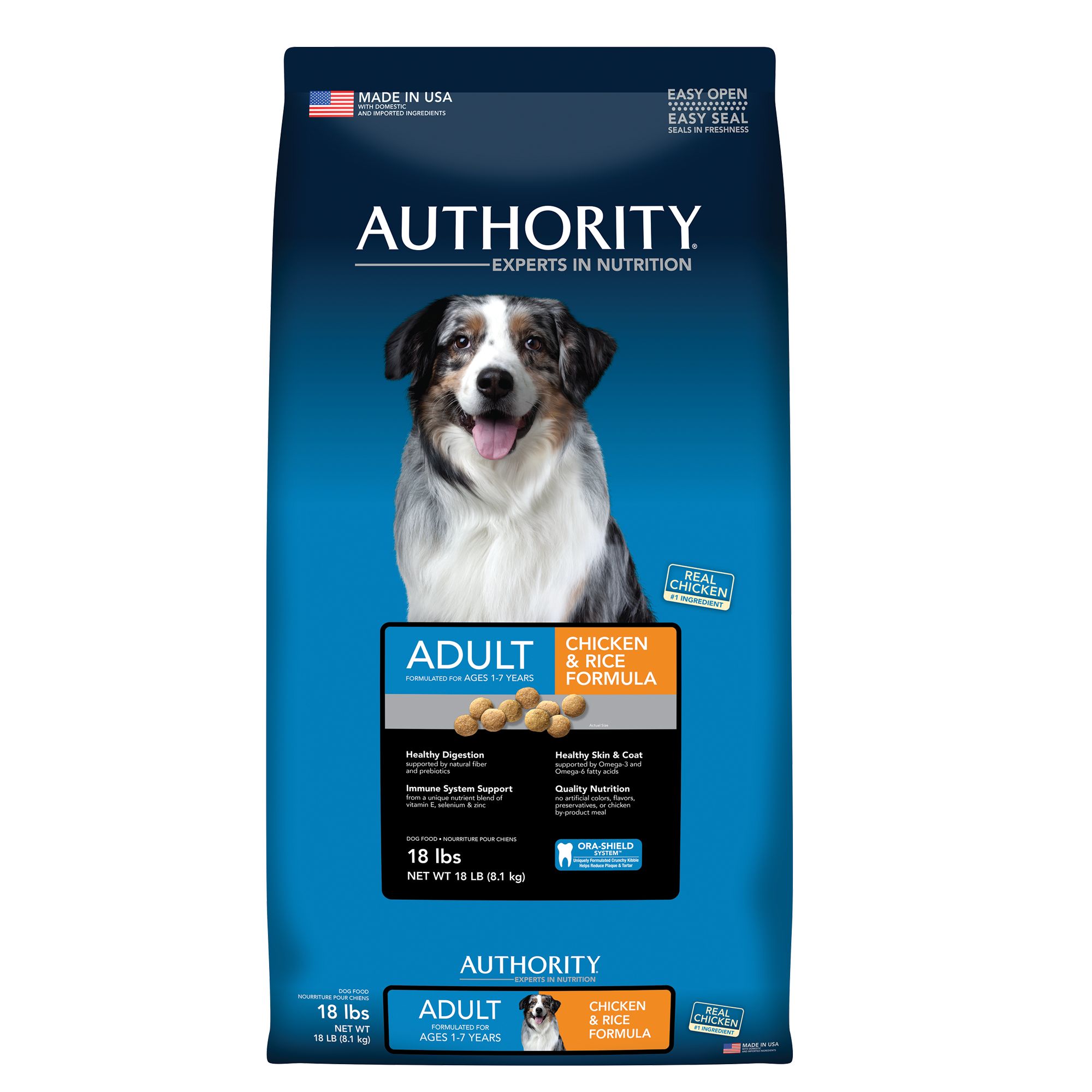 Authority Adult Chicken and Rice Formula Adult Dog Food is proof positive that your canine companion's food can be both delicious and nutritious. Treat your dog to the great taste of chicken and rice and the benefits of a balanced diet. Only at PetSmart. Features: Supports immune system and digestion, Healthier skin and coat Food Type: Dry Food Food Consistency: Kibble Life Stage: Adult Flavor: Chicken and Rice Primary Ingredient: Chicken Package Weight: 18 lbs (8.1 kg) Feeding Instructions
Price: $24.99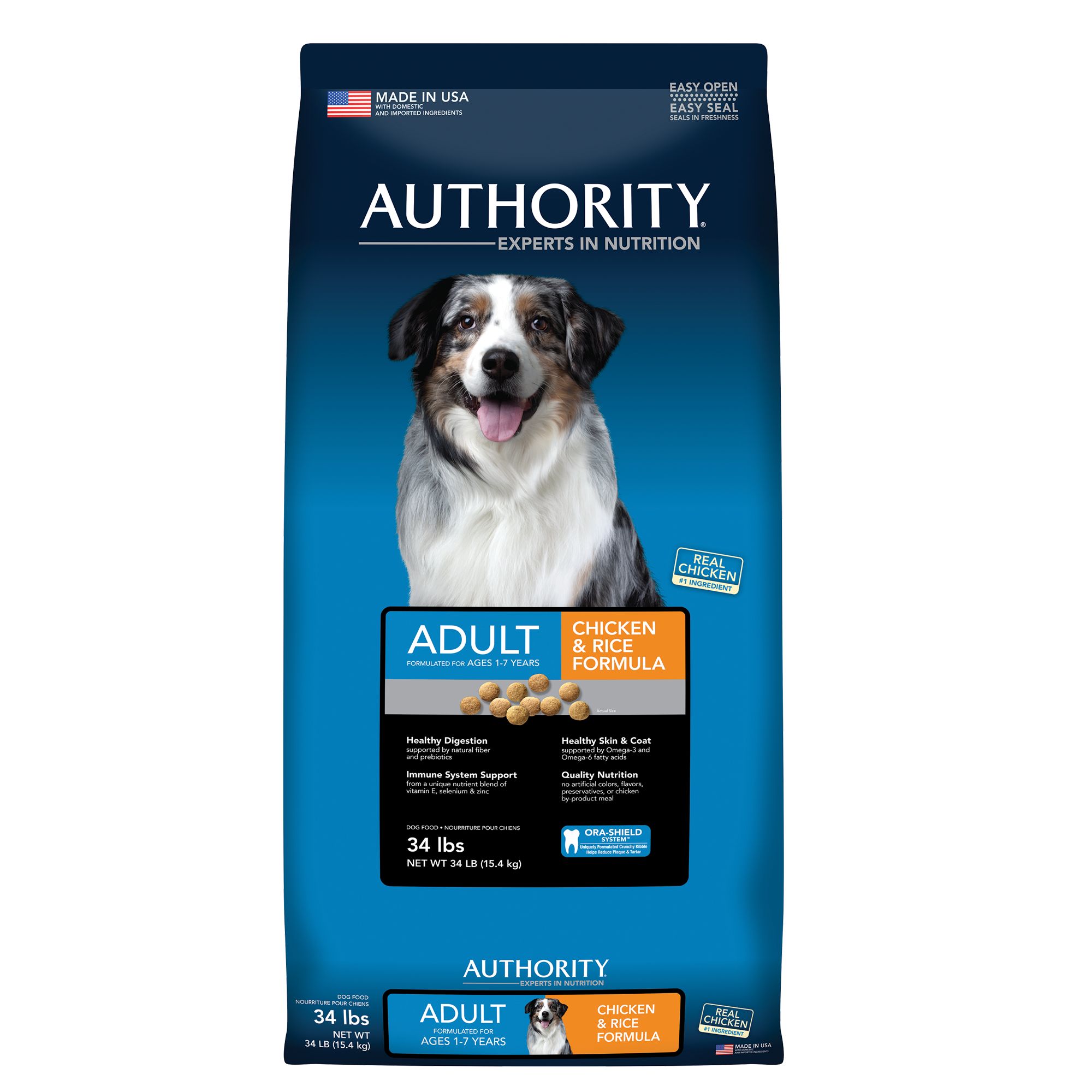 Your pooch will flip for the great flavor in very bite of Authority Chicken and Rice Formula Adult Dog Food. Of course as a pet parent you have different priorities in a dog food, like nutrition, and this delicious blend is full of the nutrients adult dogs need to be at their best. Only at PetSmart. Features: Supports immune system and digestion, Healthier skin and coat Food Type: Dry Food Food Consistency: Kibble Life Stage: Adult Flavor: Chicken and Rice Primary Ingredient: Chicken Package
Price: $31.99 - On Sale!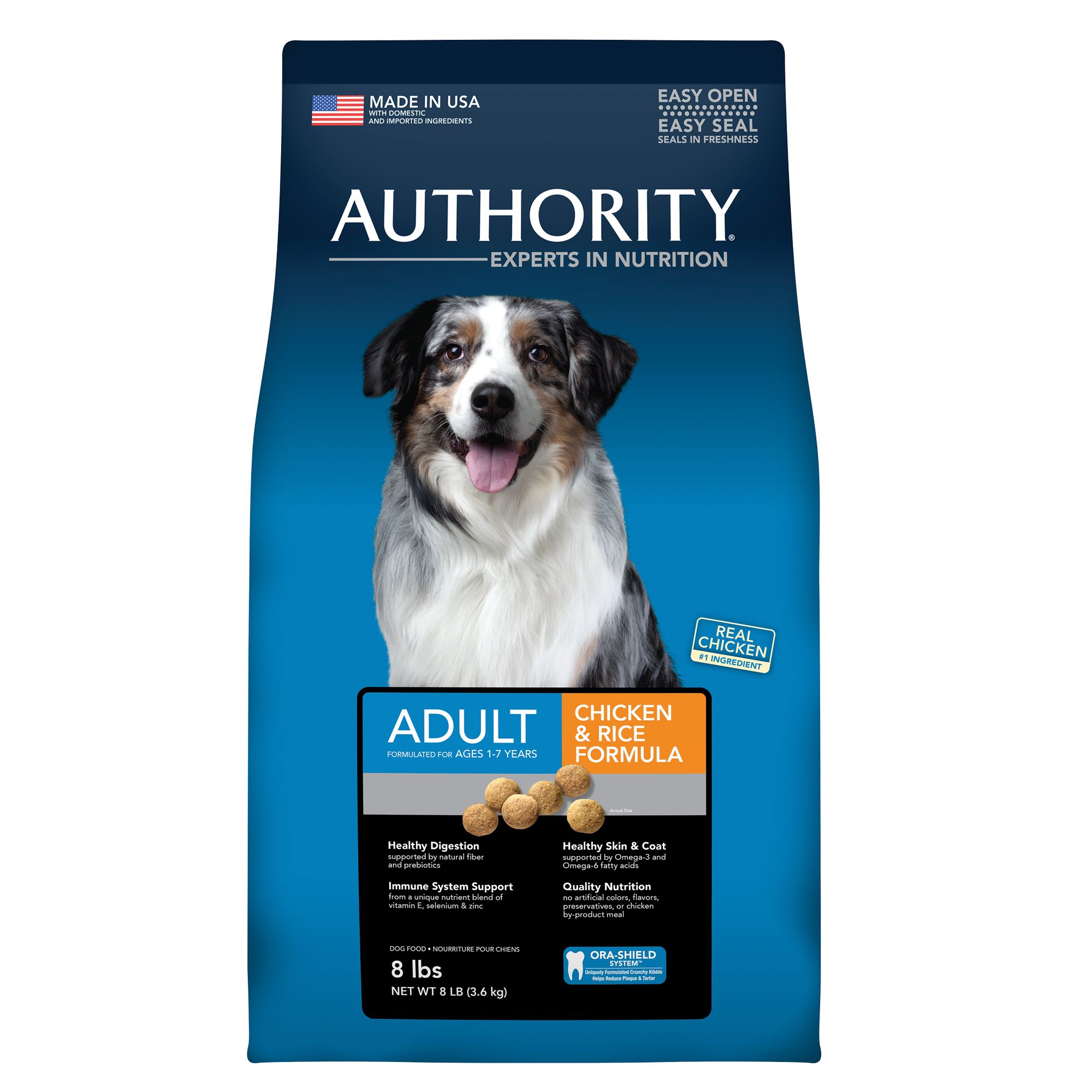 Serve your dog Authority Chicken and Rice Formula Adult Dog Food knowing it is one of the most nutritionally complete dry food options you will find. Of course dogs are all about taste, and yours will come to crave the great chicken and rice combination. Only at PetSmart. Features: Supports immune system and digestion, Healthier skin and coat Food Type: Dry Food Food Consistency: Kibble Life Stage: Adult Flavor: Chicken and Pea Primary Ingredient: Chicken Package Weight: 8 lbs (3.6 kg) Feeding
Price: $11.99 - On Sale!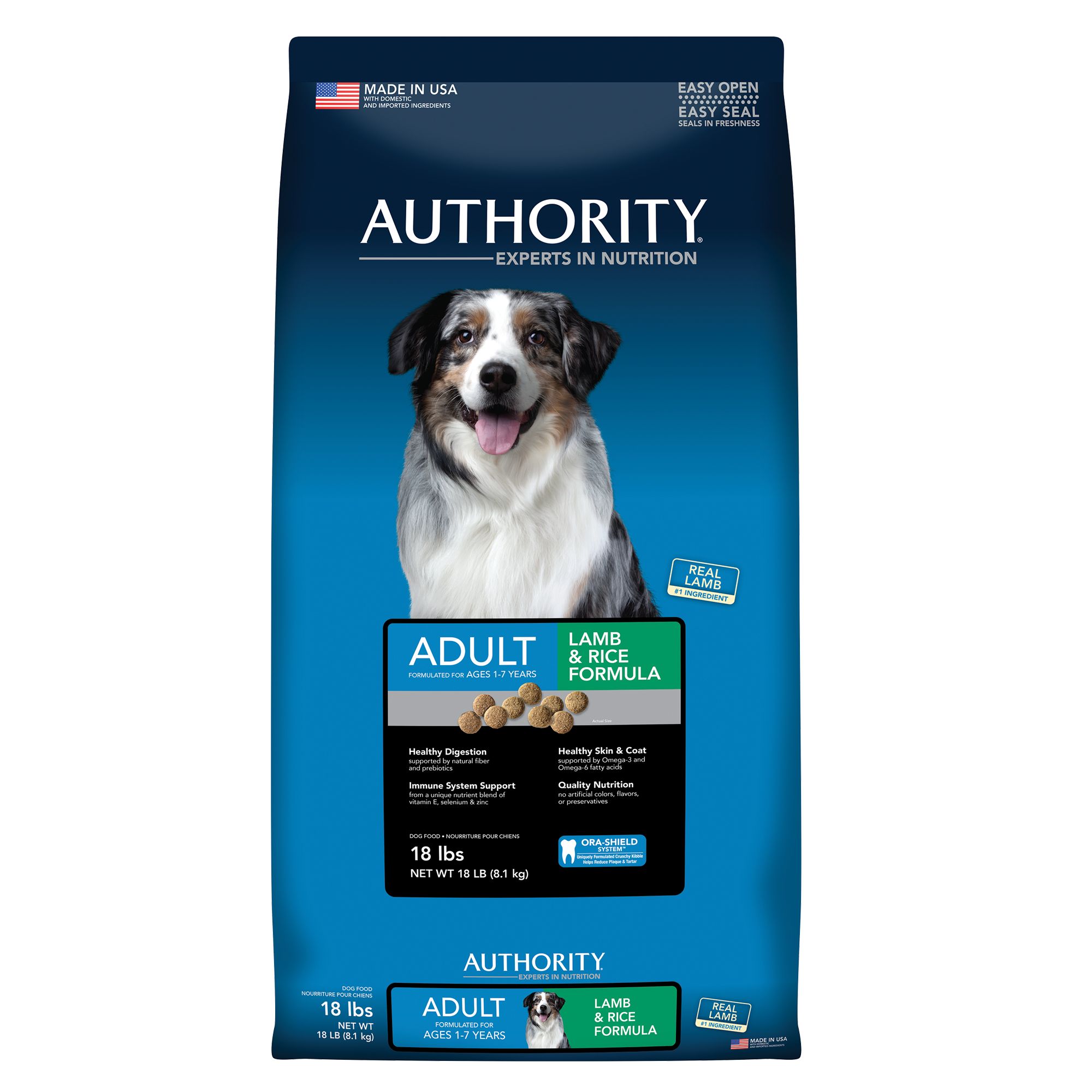 Dogs flip for the taste of Authority Lamb and Rice Formula Adult Dog Food. As a pet parent, you can feel great knowing that your pet is not only enjoying his food but is also benefiting from its many essential nutrients. Only at PetSmart. Features: Supports immune system and digestion, Healthier skin and coat Food Type: Dry Food Food Consistency: Kibble Life Stage: Adult Flavor: Lamb and Rice Primary Ingredient: Lamb Package Weight: 18 lbs (8.1 kg) Feeding Instructions: For adult dogs, feed
Price: $24.99